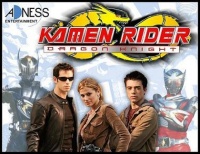 Kamen Rider, one of Japan's most enduring franchises, will make its full scale live action debut on American television on Saturday, January 3rd on the CW4Kids Saturday morning block. The CW4Kids will air a special sneak preview of the Kamen Rider Dragon Knight series on Saturday morning December 13th. Bandai America will release a full line of Kamen Rider Dragon Knight toys in the spring of 2009.
The Kamen Rider franchise was created by manga-ka Shotaro Ishinomori in 1971 and quickly adapted into a popular live action children's TV series by Toei Company, Ltd. The Kamen Rider franchise is still going strong after 37 years having spawned 18 television series (with a total of 892 episodes), 10 TV specials, 28 theatrical releases, plus 11 direct-to-DVD productions.
Adness Entertainment has adapted the 2002 Japanese live action tokusatsu (special effects) series Kamen Rider Ryuki into Kamen Rider Dragon Knight, which features an attractive young cast and non-stop action.