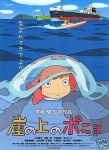 If past patterns hold, it appears that Hayao Miyazaki's latest animated feature, Ponyo on a Cliff By the Sea, will receive a North American theatrical release in the first quarter of 2009. Amazon.com is listing Viz Media's The Art of Ponyo on a Cliff By the Sea for release on March 3rd, and AAA Anime has the release of the first volume of the Ponyo on a Cliff By the Sea Film Comic set for early April. In 2005 when Miyazaki's previous movie, Howl's Moving Castle, debuted in theaters on June 10th, Viz Media released The Art of Howl's Moving Castle on the 5th of July and The Howl's Moving Castle Film Comic in August. In 2002 when Miyazaki's Spirited Away premiered in theaters on September 20th, Viz Media released The Art of Spirited Away in October. Of course Viz Media could easily postpone the release of its Ponyo volumes, if Disney encounters any problems in adapting the film, but given the number of animated features set for release throughout the year in 2009, a Q1 release for Ponyo makes a lot of sense.
The Art of Ponyo on a Cliff By the Sea ($34.99) is the latest in a series of spectacular volumes based on the Studio Ghibli films directed by Hayao Miyazaki. Unlike many western animation directors Miyazaki creates the concept sketches for his films and draws the storyboards for every sequence. Miyazaki's watercolor concept art sketches are a real treat for animation fans, but the book also contains plenty of cel art from the finished film as well as works by the art directors who are responsible for the rich backgrounds that add so much to the texture of Miyazaki's movies.
A first quarter theatrical debut for Ponyo on a Cliff By the Sea will ensure the 2009 release of the Ponyo DVD, which is almost certain to be the #1 anime DVD of 2009 and to stimulate sales of the extensive backlist of Miyazaki's films.
Ponyo was released in Japan on July 19th of 2008 and its box office performance has surpassed all of Miyazaki's previous efforts except for Spirited Away, which is the all-time Japanese box office champ. Ponyo was screened and the Venice Film Festival and received excellent notices (see "Reviewers Love Ponyo"). The fact that the exuberant film was produced entirely in hand drawn 2-D animation appears to resonate with critics who in general appear to see it a delightful change of pace from the current dominance of computer-generated 3-D animated features.