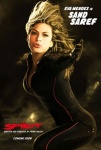 Lionsgate's decision to move up the release date of Frank Miller's adaptation of Will Eisner's The Spirit from January 16th to December 25th (see "Lionsgate Gets the Christmas Spirit") proved to be anything but fruitful as The Spirit was the only one of the five new films debuting on Christmas Day that tanked. Finishing in ninth place, The Spirit only earned an estimated $6.5 million over the 3-day weekend ($10.3 when Christmas Day totals are included) thanks to a poor per theater average of $2,593. Lionsgate actually mounted a strong promotional campaign for The Spirit including TV spots running during televised sporting events, but in spite of the ads and a perceived lack of male-oriented action film competition, The Spirit failed to get its share of the Christmas pie.

Weekend Box Office (Studio Estimates): Dec. 26-28, 2008

| | | | | |
| --- | --- | --- | --- | --- |
| Rank | Film | Weekend Gross | Screens | Avg./Screen |
| 1 | Marley and Me | $37,000,000 | 3,480 | $10,632 |
| 2 | Bedtime Stories | $28,069,000 | 3,681 | $7,625 |
| 3 | The Curious Case of Benjamin Button | $27,000,000 | 2,988 | $9,036 |
| 4 | Valkyrie | $21,531,000 | 2,711 | $7,942 |
| 5 | Yes Man | $16,450,000 | 3,434 | $4,790 |
| 6 | Seven Pounds | $13,400,000 | 2,758 | $4,859 |
| 7 | The Tale of Despereaux | $9,368,000 | 3,107 | $3,015 |
| 8 | The Day the Earth Stood Still | $7,900,000 | 2,402 | $3,289 |
| 9 | The Spirit | $6,510,000 | 2,509 | $2,595 |
| 10 | Doubt | $5,675,000 | 1,267 | $4,479 |
With a rating of only 16% positive on Rotten Tomatoes, The Spirit may well have to wait until after its DVD release in order to recoup its cost. Miller's stylized Spirit movie might not have fared any better with either audiences or critics had it been released in mid-January, but it certainly would have had less competition. Add this considerably less-than-stellar debut to the failure of its reboot of Marvel's The Punisher and one begins to wonder if Lionsgate is going to be as bullish on comic book-based movies in the future.
The four other new films that debuted on the 25th all did quite well with each earning more than $30 million over the 4-day holiday weekend. Fox's canine-centric comedy/drama Marley and Me was the definite winner, earning an estimated $37 million over the 3-day weekend, and setting a new Christmas Day opening record with a $14.7 Xmas take for a 4-day total of $51.7 million. Disney's family-oriented Bedtime Stories, which stars Adam Sandler, finished in a near dead heat with Paramount's drama, The Curious Case of Benjamin Button; and Bryan Singer's Valkyrie, starring Tom Cruise, beat expectations and finished in fourth place.
Although none of the top holdover films managed to crack the top four spots, they suffered minimal declines. Yes Man starring Jim Carrey fell from first to fifth, but experienced only a 9.9% drop, while Will Smith's Seven Pounds fell just 9.8%, Universal's animated The Tale of Despereaux slipped just 7.3%, and Fox's The Day the Earth Stood Still was off a mere 20.1% in its third weekend. Overall the top 20 films earned over $200 million collectively for the weekend, only the second time that Hollywood had reached that plateau this year (the only bigger weekend in 2008 was July 18-20 when The Dark Knight opened).
Like Marley and Me, Disney's Bedtime Stories did well with a wide-ranging family audience--51% of the audience was female and 52% was over 25. Oscar contender Benjamin Button appealed more strongly to women who made up 60% of the audience, and to older folks in general as 70% of the filmgoers were over 25. Valkyrie, which like The Spirit was rated PG-13, skewed male (56%) and older (66% over 25), which indicates that it likely took a bite out of The Spirit's potential audience.
Outside the top ten, Disney's animated feature Bolt slipped past the $100 million mark in its sixth weekend of release, while the inexpensively-produced ($37 million) teen vampire romance Twilight surpassed (as predicted by ICv2) the cumulative total of the costly ($200 million) James Bond film Quantum of Solace ($167 million to $164.3 million).