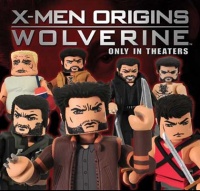 Fox's X-Men Origins: Wolverine is the only big comic book-based blockbuster movie due this summer and it will be accompanied by a wave of related merchandise including an expansive selection of Wolverine-themed graphic novels from Marvel, action figures from Hasbro, Minimates from Diamond Select, and trading cards from Rittenhouse Archives.
The Hasbro action figures, which are due in stores on March 1st and will be previewed at the upcoming New York Toy Fair, include a line of smaller 3.75-inch figures that are certain to have fans and collectors buzzing (both pro, and mostly con). Preliminary reports indicate that Hasbro action figures based on the new movie include (at least) Wolverine, Gambit, Sabertooth, Maverick, Weapon X, Deadpool, and Logan.
Diamond Select is devoting its 26th series of collectible block-like Marvel Minimates to figures from the X-Men Origins: Wolverine movie. Included in the set are Leather Jacket Wolverine, Congo Wolverine, Logan, Sabretooth, Deadpool, and limited variant Logan and Congo Sabretooth.
Rittenhouse Archives is producing a 72-card X-Men Origins: Wolverine trading card series. Chase cards will include costume and sketch cards as well as autographed cards from Hugh Jackman, Liev Schreiber, Danny Huston, and Ryan Reynolds.