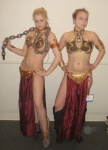 Nearly 77,000 (unique) fans thronged the
Jacob
Javits
Center
in
New York
over the weekend for New York Comic Con, smashing last year's record (see "
NYCC Rocks
") with over 15% growth.
Saturday tickets sold out despite a bigger space than last year's, and Friday and Sunday were also both busy.
As a harried Bob Chapman of Graphitti Designs told us while doing land office business on Saturday afternoon, "Inside these walls the 'fantasy' economy is perfect.
Outside the doors of the convention the economy sucks."
"We were thrilled with the crowd, and think we delivered," Lance Fensterman, the Reed VP in charge of NYCC told us on Sunday night after the show closed. "We thought if we built something that was worthy, the fans would reward us with their tightly kept dollars, and I'm really proud that our team built something that was worth those dollars. On the other side, the exhibitors trusted us to build their business and it paid off."
High temperatures throughout the weekend certainly helped attendance, which could have been crushed by a major snowstorm (not an uncommon event in the first weekend of February). As recently as early January, pre-registrations were running behind last year's (see "NYCC Expecting Growth"), but a late surge of ticket sales, especially once the weekend's weather became apparent, saved the day.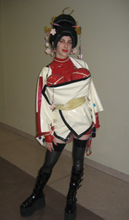 The fan vibe was upbeat and frenzied, with lots of costumes, intense interest in high profile panels and screenings, and even some pop idol mania.
The signing by Sho Sakurai, star of
Yatterman
(which had its world premiere at the show) and member of J-pop band Arashi, had to be canceled because, as show management put it, "security was not going to be able to safely bring him through the crowd."
Instead he appeared in one of the skyboxes near the front of the center at the time his signing session was scheduled, with a crowd of screaming fans waving in adoration below.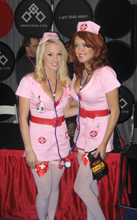 More videogame companies and studios were at the show, with big displays by some.
Top sponsors included Disney's
Up
and the BBC's
Torchwood
, both of which had banners on the front of the building, and Sherrilyn Kenyon, who was promoted with a massive banner on the front of the exhibit hall and by a huge booth at the front of the hall where free paperbacks of
Sword of Darkness
were being distributed.
Toy exhibitors were down, with Toy Fair, only a week or two away, diverting their attention.
Although not uniform, sales from booths on the floor were reported to be good, especially on moderately priced products. We heard that sales were very good at both the Midtown Comics and Jim Hanley's Universe booths, two of the largest retailers on the floor. Retailers selling older comics were less positive, with "decent" and "better than expected" two of the comments we heard.
Higher priced merchandise such as statues did not appear to be doing as well as cheaper products. And there were significant quantities of remainder or close-out product on the floor, including $5.99 DVDs, $6 manga (two for $10), and $1.00 comics.
Not all graphic novel publishers were having great sales days, with one telling us his sales were "flat, in a better location" and another saying that his sales were "down 60%" vs. 2008's. But both of those publishers said they were still having a very good show because of the deal flow. This is turning into a "great business show," one said.
February is not an auspicious release month, so there were fewer new products on the floor than there were at last year's April show, or than there will be at next year's September show (see "Reed Announces Chicago").
Over-all, the industry has to walk away from this first show of the 2009 season, and the first since the collapse of world financial markets last fall, with a good feeling about the industry despite the horrible economy.