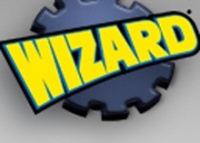 We spoke to Wizard Entertainment CEO Gareb Shamus to get more information on the company's layoffs Thursday (see "Wizard Lays Off Seven"). All of the affected personnel were from the company's Congers, New York office, and the seven employees amounted to about 10% of the workforce, Shamus told us.
He confirmed that the changes to editorial staffing were being done in conjunction with expanding the company's use of freelancers. "What we decided to do was open up our freelance budget dramatically," he said. "We have some really amazing writers out there that we wanted to be able to bring into the magazine."
We also asked about the changes in conventions, where Benji Dejohn is now running Wizard's shows in Chicago and Philadelphia. "Benji has event experience in his background and he's done a good job in sales for us," Shamus said of the move.
Wizard recently went from running the only major comic-anchored convention in the Chicago area to having a new competitor in the form of Reed Exhibitions, which announced a new show in Chicago earlier this month (see "Reed Announces Chicago Comic & Entertainment Expo"). Shamus argues that Wizard World Chicago is the second largest show in the country, measured by money spent. "Our dealers do extremely well," he said. "People spend a lot of money at that show."
Shamus wasn't backing down from competition. "We've competed against many large, well-financed companies in the past, and we've always been able to produce a more compelling product," he said. "That's not going to change now."