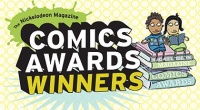 Nickelodeon Magazine has announced the winners of its first Nickelodeon Magazine Comics Awards, in eight categories. The winners were chosen by vote of over 17,000 voters, who voted online and using print ballots from the magazine over a six week period late last year.
The winners are being announced online, and in the April issue of the magazine, on sale now.
Nickelodeon Magazine, read by 7.7 million readers each issue, is the leading humor and general entertainment magazine for kids seven and up.
The winners are:
Favorite Graphic Novel
Diary of a Wimpy Kid, by Jeff Kinney
Favorite Comic Book Series
Simpsons, Bongo Comics
Cutest Comic Character
Snoopy, from Peanuts by Charles M. Schulz
Favorite Comic Strip
Garfield, by Jim Davis
Best Hair in Comics
Calvin, from Calvin and Hobbes
Favorite Manga Series
Best of Pokemon Adventures, by Hidenori Kusaka nad Mato
Grossest Thing in Comics
The Cheese from Diary of a Wimpy Kid, by Jeff Kinney
Favorite Fantasy Graphic Novel
Bone, by Jeff Smith