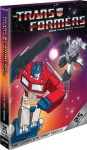 Shout! Factory will release the Transformers and GI Joe TV series from the 80s on DVD, along with the My Little Pony direct-to-video features, according to Hollywood Reporter. Shout Factory plans to release improved versions of the episodes that were previously released on DVD by Rhino, and to complete the GI Joe run, which was only partially completed by Rhino.
The first Shout Factory release will be a three disc set of The Transformers: The Complete First Season—25th Anniversary Edition, which will street June 16th (leading into the theatrical release of Transformers: Revenge of the Fallen on the 24th). The episodes will have remastered video and a new stereo soundtrack created from the original audio. Extras will include a printable script, rare PSAs, toy commercials, concept art, a limited edition Autobot magnet, and the featurette "Triplechanger: From Toy to Comic to Screen: The Origins of the Transformers."
Complete series sets of both Transformers and GI Joe are planned for later in the summer.