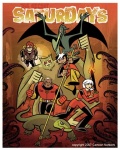 Del Rey Manga has announced that it will publish two graphic novels based on the Cartoon Network animated series, The Secret Saturdays. Del Rey has had great success publishing film-comic adaptations of Bakugan Battle Brawlers (see "BookScan's Top 20 Graphic Novels for February") and Ben 10 Alien Force, two other animated series appearing on the Cartoon Network.
The Secret Saturdays graphic novels will be published in the same film-comic format as the Bakugan and Ben 10 volumes, which feature full color cel art taken directly from the animated series. The first Secret Saturdays volume will be released in September of 2009 and will be rated for all ages.
Created by Canadian cartoonist Jay Stephens (Tutenstein), The Secret Saturdays features the adventures of a family of cyptozoologists, who attempt to keep the truth about creatures undiscovered by science from getting out, in order to protect both the creatures/monsters themselves and the human race. ICv2 columnist Steve Bennett described the highly entertaining adventure series quite accurately as a "cross between Jonny Quest and Herculoid" (see "Confessions of a Comic Book Guy—The King of Cartoons").