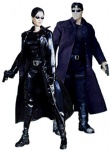 The giant toy corporations like Mattel have been shying away from movie licensed projects (except for Harry Potter) leaving room for small companies like N2 to exploit the collector niche by creating collectible figures from adult oriented films like The Matrix, Mad Max, and The Fifth Element. Since companies like N2 don't have the mass market distribution muscle that the big toy companies have, specialty retailers face less competition on N2 toys. The Matrix was a big hit for N2, which is planning a third series of Matrix figures for 2001 as well as new twelve-inch figures of Martial Arts Neo and Morpheus, Real World Neo and Trinity, Agent Smith, Morpheus, and Cypher.
But the most interesting toys from N2 just might hail from the small screen -- figures based on the live action series, The Tick. The new Tick series is about to join Fox's Sunday night lineup, which has been absolutely killer in the ratings this entire season. With Futurama, The Simpsons, Malcolm in the Middle, and the X-Files, Sunday night is Fox's strong point and should provide an excellent launching pad for The Tick, which stars Patrick Warburton (David Putty on Seinfeld) as the big blue superhero. N2 is planning a full line of action figures including: Arthur, Bat Manuel, Capt. Liberty, Red Menace, and of course the Tick himself, who will also be available in a deluxe 6-inch talking version. Small screen licenses can often outperform their Hollywood brethren, since TV series can last for years, while very few movies have that kind of 'legs.' The Tick, created by Ben Edlund and originally published by New England Comics, is one of the funniest superhero parodies ever, and the new live action show should keep it a strong player in the specialty market.
In addition to Matrix and Tick, N2 has some other projects tailor-made for our market included a sensuous Shi figure from the Crusade comic created by Bill Tucci, a statue of Julie Strain as the hottest warrior from the Heavy Metal-inspirted Fakk 2 video game, and a hobby-only set of figures based on the Malibu/Bravura comic, Nocturnals that includes Gunwich, Polychrome, Doc Horror and Halloween Girl.