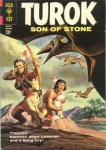 At the San Diego Comic-Con Dark Horse Comics announced the acquisition of the rights to create new comic book series based on classic Gold Key comic heroes including Turok, Son of Stone, Doctor Solar, Magnus, Robot Fighter, and Mighty Samson. Jim Shooter, who revived Turok, Magnus, and Solar for the Valiant Universe in the 1990s, will be plotting and overseeing all four of the new series based on the Gold Key characters for Dark Horse.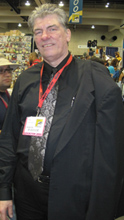 Dark Horse's Director of Public Relations, Jeremy Atkins told ICv2 that the new Dark Horse comics featuring Gold Key heroes should debut in mid-2010.
Dark Horse has already released hardcover collections reprinting vintage Gold Key comics featuring
Magnus, Robot Fighter
,
Doctor Solar
, and some of the Russ Manning Gold Key
Tarzans.
In the near future Dark Horse will issue collections of Gold Key comics featuring
Roy Rogers, Turok
and the Jesse Marsh
Tarzans
.