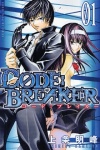 Del Rey Manga announced at San Diego Comic-Con that it has acquired rights to three new series, which it will begin publishing late this year. In December, Del Rey will release the first volume of Code: Breaker, the new series by Akimine Kamijyo, the creator of Samurai Deeper Kyo. Del Rey recently announced that it had picked up the rights to future volumes of Samurai Deeper Kyo, which was released by Tokyopop through volume 34 (see "Del Rey Picks Up Two Kodansha Series"). Code: Breaker is an ongoing series in Japan.
Panic X Panic, by Mika Kawamura, will launch in March 2010. It tells the story of two teens who discover they are the descendants of priests who had sealed away disorderly demons that are becoming a problem again.
Pink Innocent, by Kotori Momoyuki, is a quirky teen comedy that will launch in April. It tells the story of a rich 16-year-old who has to figure out how to approach a super-serious boy who's more interested in the stock market and his laptop than any girl.
And on the graphic novel front, Del Rey has acquired the trade paperback rights to Stuff of Legends, a Third World comic that the company believes is "tracking like Mouseguard."