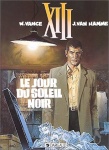 Cinebook has acquired the English language rights to the XIII graphic novels by Jean Van Hamme and William Vance. XIII is one of the most popular series in Europe, with 19 volumes in print. It has also been adapted into a videogame, and was the basis for a TV miniseries aired in the U.S. earlier this year (see "XIII Miniseries Airs in Feburary").
Cinebook plans to release one new volume of XIII every two months, beginning in May 2010. Other than the first three volumes, which were released in the U.S. in the late 80s, these volumes have not previously been released in the States.
Van Hamme and Vance are well known for their work, with Van Hamme the author behind Thorgal and Largo Winch; and Vance the artist of Howard Flynn, Bruce Hawker, Bruno Brazil, Bob Morane and Marshall Blueberry.