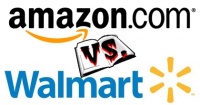 A serious price war has broken out between Amazon and Walmart.com over advance order bestselling books, with the retailers offering discounts as high as 74% off retail on hot upcoming titles. These prices are certainly below cost for both retailers. Titles involved include the upcoming titles from Stephen King, James Patterson, and Sarah Palin.
The price war started on Thursday, according to the Wall Street Journal, when Walmart cut prices on ten hot upcoming titles to $10. Amazon matched the price, and Walmart then cut prices on the titles to $9. After Amazon also matched that price, Walmart cut its price again, to $8.99.
The nation's largest book chains aren't cutting prices to match, which probably means that they will lose market share on these key titles. At a time when book retailing is already challenged by slumping sales due to the economy, a price war appears to be the last thing Borders and Barnes & Noble need.