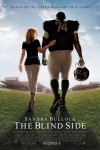 With holiday shopping in full swing, the weekend after Thanksgiving is typically one of the worst box office sessions of the year and the studios generally avoid opening any major films in the aftermath of Turkey Day. So it's no surprise that the same two films topped the charts for the third weekend in row, though they did change places with Sandra Bullock's feel-good drama The Blind Side taking over from teen sensation The Twilight Saga: Full Moon.
Weekend Box Office (Studio Estimates): December 4-6, 2009

Rank

Film

Weekend Gross

Screens

Avg./Screen

1

The Blind Side

$20,440,000

3,326

$6,146

2

The Twilight Saga: New Moon

$15,704,000

4,124

$3,808

3

Brothers

$9,700,000

2,088

$4,646

4

A Christmas Carol

$7,520,000

2,546

$2,954

5

Old Dogs

$6,901,000

3,425

$2,015

6

Armored

$6,600,000

1,915

$3,446

7

2012

$6,600,000

3,220

$2,050

8

Ninja Assassin

$5,030,000

2,503

$2,010

9

Planet 51

$4,300,000

2,904

$1,481

10

Everybody's Fine

$4,027,000

2,133

$1,888

The Blind Side, which has now earned $129.2 million and will soon pass The Proposal as the star's highest grossing film, dropped just 49% and earned an estimated $20.4 million while averaging a solid $6,146 per venue in its third week of release. The Blind Side's winning total was the highest that this weekend has seen in more than five years, and even though the box office total was well down from last weekend, it still posted a double-digit increase over 2008's post-Turkey Day frame.

Meanwhile New Moon faded once again, declining 63.4% while pulling in an estimated $15.7 million, which was good enough for second place. Don't feel bad for Summit Entertainment. New Moon has earned $255.6 million domestically and another $314.5 million overseas for a gigantic worldwide total of over $570 million, which is already 48% more than the worldwide total of the first Twilight film ($385 million).

The family drama Brothers, which stars Tobey Maguire (Spider-Man), Jake Gyllenhaal (Prince of Persia), and Natalie Portman (V for Vendetta) was the strongest of four new openers. The remake of a Danish film earned an estimated $9.7 million from just over 2,000 theaters and finished in third place. Disney's motion capture adaptation of A Christmas Carol moved up from #5 to #4 in its fifth weekend in theaters. Robert Zemeckis' film continues to demonstrate strong "legs" as it ran its cumulative to $115 million. Heading in the other direction, Disney's live action geezer comedy Old Dogs dropped nearly 60% in its second weekend while posting one of the lower per theater averages in the top ten.

Director Nimrod Antal's Armored, which stars Matt Dillion, Lawrence Fishburne, and Jean Reno, largely failed in its attempt to inject a little testosterone into the estrogen-heavy top rungs of the pre-holiday box office. Still Armored did manage to earn $6.6 million and finish in sixth place. Antal is directing Robert Rodriguez's Predators, so fans might want to check out Armored, a streamlined unpretentious genre film that may have to wait for DVD to get its full due.

The two other new entries fared even worse. In the family drama Everybody's Fine, which debuted with a thud at #10, Raging Bull Robert De Niro has been transformed into "doughty dad" as he chases around the country chatting up strangers while trying to connect with his ungrateful offspring. But Everybody's Fine, which earned over $4 million, was New Moon compared with Full Circle's high school horror film Transylvania, which averaged only $272 per theater at over a thousand venues while debuting at #21, earning $274,000, less than a third of what Disney's new 2-D animated movie The Princess and the Frog brought in from just two theaters where it is being showcased. Also performing well in very limited release was director Jason (Juno, Thanks for Smoking) Reitman's Up in the Air, which brought in $1.1 million from just 15 venues.