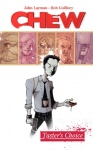 These are estimates of the sales on graphic novels by Diamond U.S. to comic specialty stores during November 2009.
For an overview and analysis of comic sales in November, see "'Blackest Night's' Reign Continues."
For an analysis of the dollar trends in November, see "Comic Sales Up in November."
For our estimates of actual sales by Diamond
U.S.
from comic specialty stores on comic books shipped during November, see "
Top 300 Comics Actual--November 2009
."
TOP 300 GNs -- November 2009

Rank

Index

Title

Price

Pub

Est.Qty

1

9.18

CHEW TP VOL 01 (MR)

$9.99

IMA

6,336

2

8.75

BOYS TP VOL 05 HEROGASM (MR)

$19.99

DE

6,036

3

7.46

GREEN LANTERN AGENT ORANGE HC

$19.99

DC

5,143

4

7.16

BATMAN BATTLE FOR THE COWL HC

$19.99

DC

4,938

5

6.63

INCOGNITO TP (MR)

$18.99

MAR

4,574

6

5.71

DARK AVENGERS TP VOL 01 ASSEMBLE

$19.99

MAR

3,939

7

5.01

USAGI YOJIMBO HC YOKAI

$14.95

DAR

3,459

8

4.97

ASTONISHING X-MEN TP VOL 05 GHOST BOX

$24.99

MAR

3,429

9

4.96

DEADPOOL CLASSIC TP VOL 03

$29.99

MAR

3,424

10

4.77

MARVEL ZOMBIES 3 TP

$15.99

MAR

3,293

11

4.68

STAND AMERICAN NIGHTMARES PREM HC

$24.99

MAR

3,229

12

4.52

BERSERK TP VOL 32 (MR)

$14.99

DAR

3,117

13

4.41

BATMAN BATTLE FOR THE COWL COMPANION TP

$14.99

DC

3,044

14

4.28

GREEN LANTERN CORPS EMERALD ECLIPSE HC

$24.99

DC

2,952

15

4.26

NEW AVENGERS TP VOL 11 SEARCH FOR SORCERER SUPREME

$14.99

MAR

2,939

16

4.10

SUPERMAN BATMAN SEARCH FOR KRYPTONITE TP

$12.99

DC

2,829

17

4.07

HELLBLAZER SCAB TP (MR)

$14.99

DC

2,805

18

3.93

AVENGERS X-MEN UTOPIA HC

$39.99

MAR

2,709

19

3.85

SAGA OF THE SWAMP THING HC BOOK 02 (MR)

$24.99

DC

2,659

20

3.80

BATMAN PRIVATE CASEBOOK TP

$14.99

DC

2,621

21

3.70

SUPERMAN RED SON DELUXE EDITION HC

$24.99

DC

2,555

22

3.70

JSA TP VOL 03 THY KINGDOM COME PART 2

$19.99

DC

2,550

23

3.66

X-MEN MANIFEST DESTINY TP

$24.99

MAR

2,523

24

3.62

X-MEN LEGACY TP SALVAGE

$19.99

MAR

2,495

25

3.57

WAR OF KINGS HC

$39.99

MAR

2,460

26

3.56

LUNA PARK HC (MR)

$24.99

DC

2,459

27

3.36

ABSOLUTE JUSTICE HC

$99.99

DC

2,318

28

3.30

WOLVERINE ORIGINS TP DARK REIGN

$15.99

MAR

2,278

29

3.24

SHOWCASE PRESENTS DC COMICS PRESENTS TP VOL 01

$17.99

DC

2,233

30

3.03

CASPER FRIENDLY GHOST 60TH ANNIV HC

$9.95

DAR

2,089

31

3.00

MIGHTY AVENGERS TP EARTHS MIGHTIEST

$14.99

MAR

2,068

32

2.92

IMMORTAL IRON FIST TP VOL 05 ESCAPE FROM EIGHTH CITY

$14.99

MAR

2,014

33

2.85

SUPERGIRL WHO IS SUPERWOMAN TP

$17.99

DC

1,964

34

2.78

X-MEN WOLVERINE GAMBIT PREM HC

$19.99

MAR

1,921

35

2.78

PUNISHER DARK REIGN TP

$16.99

MAR

1,916

36

2.77

WONDER WOMAN RISE OF THE OLYMPIAN TP

$14.99

DC

1,911

37

2.74

VAMPIRE KNIGHT TP VOL 08

$9.99

VIZ

1,893

38

2.72

NOVA TP VOL 05 WAR OF KINGS

$16.99

MAR

1,873

39

2.68

PICTURES THAT TICK TP

$19.95

DAR

1,847

40

2.60

ANGEL AFTER THE FALL TP VOL 02 FIRST NIGHT

$17.99

IDW

1,791

41

2.60

TSUBASA GN VOL 24

$10.99

RAN

1,791

42

2.55

DARK REIGN ELEKTRA TP

$16.99

MAR

1,758

43

2.51

CRIMINAL DELUXE ED

$49.99

MAR

1,729

44

2.49

WARCRAFT DEATH KNIGHT A WOW ADVENTURE GN

$10.99

TOK

1,717

45

2.43

WOLVERINE WEAPON X ADAMANTIUM MEN PREM HC VOL 01

$24.99

MAR

1,679

46

2.40

CAPTAIN AMERICA DEATH OF OMNIBUS HC

$64.99

MAR

1,654

47

2.38

X-FACTOR TP VOL 07 TIME AND A HALF

$19.99

MAR

1,643

48

2.35

WALKING DEAD COMPENDIUM TP VOL 01 (MR)

$59.99

IMA

1,623

49

2.30

ESSENTIAL MOON KNIGHT TP VOL 03

$19.99

MAR

1,589

50

2.29

SHADE THE CHANGING MAN TP VOL 02 EDGE OF VISION TP (MR)

$19.99

DC

1,582

51

2.29

AVENGERS INITIATIVE TP VOL 04 DISASSEMBLED

$19.99

MAR

1,581

52

2.29

SGT ROCK THE LOST BATTALION HC

$24.99

DC

1,577

53

2.26

SPIDER-MAN DIED IN YOUR ARMS TONIGHT PREM HC

$24.99

MAR

1,557

54

2.24

FLASH VS THE ROGUES TP

$14.99

DC

1,545

55

2.17

MMW DEATHLOK HC VOL 01

$64.99

MAR

1,498

56

2.17

HULK GREEN HULK RED HULK HC

$39.99

MAR

1,495

57

2.14

OUTSIDERS THE DEEP TP

$14.99

DC

1,473

58

2.10

JUSTICE LEAGUE INTERNATIONAL TP VOL 03

$19.99

DC

1,451

59

2.09

WALKING DEAD TP VOL 10 WHAT WE BECOME

$14.99

IMA

1,440

60

2.08

EXILES POINT OF NO RETURN TP

$19.99

MAR

1,434

61

2.08

LUCKY STAR GN VOL 02

$10.99

BAN

1,433

62

2.06

ESCAPISTS TP

$14.95

DAR

1,424

63

2.04

POWERS HC VOL 03 DEFINITIVE COLLECTION (MR)

$29.99

MAR

1,408

64

1.99

WOLVERINE ORIGINS ROMULUS PREM HC

$19.99

MAR

1,372

65

1.97

WOLVERINE HC OLD MAN LOGAN

$34.99

MAR

1,361

66

1.91

WINTER MEN TP (MR)

$19.99

DC

1,316

67

1.90

D GRAY MAN GN VOL 15 (MR)

$9.99

VIZ

1,312

68

1.90

THE NAM TP VOL 01

$29.99

MAR

1,310

69

1.89

X-MEN WORLDS APART TP

$15.99

MAR

1,304

70

1.89

CLAYMORE TP VOL 15

$9.99

VIZ

1,304

71

1.89

DNANGEL GN VOL 13 (OF 13)

$10.99

TOK

1,303

72

1.88

SHADE THE CHANGING MAN TP VOL 01 AMERICAN SCREAM NEW PTG (MR

$17.99

DC

1,297

73

1.87

BOYS HC VOL 01 LTD ED NAME OF THE GAME (MR)

$29.99

DE

1,287

74

1.81

X-FILES TP

$19.99

DC

1,249

75

1.78

OURAN HIGH SCHOOL HOST CLUB TP VOL 13

$9.99

VIZ

1,227

76

1.78

WOLVERINE TALES OF WEAPON X TP GN

$14.99

MAR

1,225

77

1.77

INU YASHA TP VOL 42

$9.99

VIZ

1,219

78

1.76

DO ANDROIDS DREAM OF ELECTRIC SHEEP HC VOL 01 (OF 6)

$24.99

BOO

1,213

79

1.75

PLUTO URASAWA X TEZUKA GN VOL 06

$12.99

VIZ

1,208

80

1.75

AMAZING SPIDER-MAN BY JMS ULTIMATE COLLECTION TP BOOK 02

$34.99

MAR

1,207

81

1.73

MMW UNCANNY X-MEN TP VOL 01

$24.99

MAR

1,190

82

1.72

OFF HB MARVEL UNIV A TO Z PREM HC VOL 11

$24.99

MAR

1,188

83

1.72

NEGIMA GN VOL 24 (MR)

$10.99

RAN

1,185

84

1.70

SHERLOCK HOLMES HC VOL 01 TRIAL OF SHERLOCK HOLMES (MR)

$24.99

DE

1,176

85

1.63

OH MY GODDESS RTL TP VOL 13

$10.95

DAR

1,126

86

1.63

STRANGE SUSPENSE STEVE DITKO ARCHIVES HC VOL 01

$39.99

FAN

1,121

87

1.59

JESUS HATES ZOMBIES LINCOLN HATES WEREWOLVES GN VOL 03 (OF 4

$6.99

ALT

1,099

88

1.56

RUNAWAYS HOMESCHOOLING PREM HC

$19.99

MAR

1,075

89

1.55

LOEG III CENTURY #1 1910 (MR)

$7.95

TOP

1,072

90

1.55

WALKING DEAD TP VOL 02 MILES BEHIND US (NEW PTG)

$14.99

IMA

1,068

91

1.54

WALKING DEAD TP VOL 01 DAYS GONE BYE

$9.99

IMA

1,060

92

1.53

STAR WARS LEGACY TP VOL 07 STORMS

$17.95

DAR

1,056

93

1.52

GHOST RIDER DANNY KETCH TP VOL 01

$29.99

MAR

1,051

94

1.52

NANA TP VOL 19 (MR)

$9.99

VIZ

1,050

95

1.52

CODE GEASS LELOUCH OF THE REBELLION GN VOL 06

$10.99

BAN

1,048

96

1.52

FANTASTIC FOUR VISIONARIES WALTER SIMONSON TP VOL 03

$19.99

MAR

1,047

97

1.51

SHERLOCK HOLMES HC VOL 01

$16.99

IDW

1,042

98

1.50

HACK ALCOR GN

$10.99

TOK

1,033

99

1.49

DESTROYER PREM HC

$24.99

MAR

1,025

100

1.47

ALIEN LEGION OMNIBUS TP VOL 01

$24.95

DAR

1,012

101

1.45

LUCKY STAR GN VOL 03

$10.99

BAN

997

102

1.40

GURREN LAGANN GN VOL 03

$10.99

BAN

963

103

1.39

JOHNNY HOMICIDAL MANIAC DIRECTORS CUT SC

$19.95

SLA

961

104

1.36

RIP KIRBY HC VOL 01

$49.99

IDW

937

105

1.34

DAREDEVIL NOIR PREM HC

$19.99

MAR

927

106

1.33

WALKING DEAD TP VOL 09 HERE WE REMAIN (MR)

$14.99

IMA

919

107

1.32

HERCULES FULL CIRCLE PREM HC

$19.99

MAR

910

108

1.30

SPIRIT TP VOL 04

$19.99

DC

900

109

1.30

STAR WARS CLONE WARS TP VOL 01 SLAVES OF REPUBLIC

$9.95

DAR

895

110

1.30

WATCHMEN TP

$19.99

DC

895

111

1.28

TERROR INC TP APOCALYPSE SOON (MR)

$14.99

MAR

882

112

1.28

FABLES TP VOL 01 LEGENDS IN EXILE

$9.99

DC

881

113

1.28

PROJECT SUPERPOWERS BLACK TERROR TP VOL 01

$14.99

DE

881

114

1.25

WALKING DEAD TP VOL 03 SAFETY BEHIND BARS

$12.99

IMA

859

115

1.22

WONDERFUL WIZARD OZ HC

$29.99

MAR

845

116

1.21

BLACK LIGHTNING YEAR ONE TP

$17.99

DC

838

117

1.19

SHAMAN KING TP VOL 25

$9.99

VIZ

819

118

1.18

HIKARU NO GO TP VOL 17

$9.99

VIZ

811

119

1.17

GUNDAM 00F GN VOL 01

$10.99

BAN

804

120

1.16

CODE GEASS NIGHTMARE OF NUNNALLY GN VOL 03

$10.99

BAN

803

121

1.16

WASTELAND TP VOL 05 TALES O/T UNINVITED (MR)

$13.95

ONI

802

122

1.16

WALKING DEAD TP VOL 04 HEARTS DESIRE (NEW PTG)

$14.99

IMA

801

123

1.15

MINISTRY OF SPACE TP

$12.99

IMA

792

124

1.15

INSOMNIA CAFE HC

$14.95

DAR

790

125

1.14

TSUBASA GN VOL 23

$10.99

RAN

787

126

1.14

VAGABOND TP VOL 30 (MR)

$9.95

VIZ

786

127

1.12

FULLMETAL ALCHEMIST TP VOL 21

$9.99

VIZ

775

128

1.12

ARCHIE NEW LOOK SERIES TP VOL 03 BREAKUP BLUES

$10.95

ARC

772

129

1.11

BEAST GN

$15.99

IMA

768

130

1.10

UMBRELLA ACADEMY TP VOL 02 DALLAS

$17.95

DAR

759

131

1.09

TEZUKAS BLACK JACK TP VOL 08

$16.95

RAN

752

132

1.09

WONDER WOMAN RISE OF THE OLYMPIAN HC

$24.99

DC

751

133

1.09

JUNJO ROMANTICA GN VOL 11 (OF 11) (A)

$12.99

TOK

751

134

1.07

THIS UGLY YET BEAUTIFUL WORLD GN VOL 01 (OF 3) (MR)

$10.99

TOK

740

135

1.07

WALT DISNEYS CHRISTMAS CLASSICS HC VOL 01

$24.99

BOO

739

136

1.07

ZOMBIE SURVIVAL GUIDE RECORDED ATTACKS GN

$17.00

RAN

736

137

1.06

BATMAN DARK KNIGHT RETURNS TP

$14.99

DC

733

138

1.05

BOYS HC VOL 02 LTD ED GET SOME (MR)

$29.99

DE

727

139

1.05

FUSHIGI YUGI GENBU KAIDEN TP VOL 09

$9.99

VIZ

727

140

1.05

CHRONICLES OF KULL TP VOL 01 KING COMES RIDING

$18.95

DAR

725

141

1.05

TIMESTORM 2009-2099 HC

$24.99

MAR

725

142

1.05

TUROK SON OF STONE ARCHIVES HC VOL 04

$49.95

DAR

724

143

1.03

BATMAN THE LONG HALLOWEEN TP

$19.99

DC

710

144

1.03

KODT BUNDLE OF TROUBLE TP VOL 28

$12.99

KEN

710

145

1.02

SCUD THE DISPOSABLE ASSASSIN THE WHOLE SHEBANG TP

$29.99

IMA

704

146

1.01

WALKING DEAD TP VOL 08 MADE TO SUFFER (MR)

$14.99

IMA

697

147

1.00

ANITA BLAKE VH LC TP BOOK 01 ANIMATOR (MR)

$16.99

MAR

692

148

1.00

FINAL CRISIS LEGION OF THREE WORLDS HC

$19.99

DC

688

149

0.98

LENORE NOOGIES PX HC COLOR ED

$24.95

TIT

678

150

0.97

WALKING DEAD TP VOL 07 THE CALM BEFORE (MR)

$12.99

IMA

670

151

0.97

BOYS TP VOL 04 WE GOTTA GO NOW (MR)

$19.99

DE

669

152

0.97

BATMAN HUSH COMPLETE TP

$24.99

DC

668

153

0.97

V FOR VENDETTA NEW EDITION TP (MR)

$19.99

DC

667

154

0.96

DOCTOR WHO CLASSICS TP VOL 04

$19.99

IDW

663

155

0.96

CHRONICLES OF SOLOMON KANE TP VOL 01

$18.95

DAR

661

156

0.96

XXXHOLIC GN VOL 14

$10.99

RAN

659

157

0.95

WALKING DEAD TP VOL 05 BEST DEFENSE (NEW PTG)

$14.99

IMA

658

158

0.94

DEADPOOL TP VOL 01 SECRET INVASION

$14.99

MAR

646

159

0.92

Y THE LAST MAN TP VOL 01 UNMANNED

$12.99

DC

638

160

0.92

TRE TARINO GN

$35.00

IDW

635

161

0.91

JEFF SMITH LITTLE MOUSE GETS READY HC

$12.95

RAW

627

162

0.91

WALKING DEAD TP VOL 06 SORROWFUL LIFE (MR)

$12.99

IMA

626

163

0.90

GREAT PLACE HIGH SCHOOL GN VOL 01 STUDENT COUNCIL (MR)

$12.95

DIG

624

164

0.90

IRREDEEMABLE TP VOL 01

$9.99

BOO

620

165

0.90

HIGURASHI WHEN THEY CRY GN VOL 05

$10.99

HAC

619

166

0.89

SCOTT PILGRIM GN VOL 01 SP PRECIOUS LITTLE LIFE (MAY042851)

$11.95

ONI

617

167

0.89

FABLES TP VOL 12 THE DARK AGES (MR)

$17.99

DC

616

168

0.88

DANCE IN THE VAMPIRE BUND GN VOL 05 (MR)

$10.99

ST.

604

169

0.87

INVINCIBLE TP VOL 03 PERFECT STRANGERS

$12.99

IMA

601

170

0.87

BOYS TP VOL 01 NAME OF THE GAME (MR)

$16.99

DE

599

171

0.87

JORMUNGAND GN VOL 01 (MR)

$12.99

VIZ

599

172

0.87

FALL OF CTHULHU TP VOL 06 NEMESIS

$16.99

BOO

598

173

0.86

TARZAN THE JESSE MARSH YEARS HC VOL 04

$49.95

DAR

593

174

0.85

DR WHO WIDOWS CURSE TP

$31.95

DIA

588

175

0.85

UMBRELLA ACADEMY TP VOL 01 APOCALYPSE SUITE

$17.95

DAR

586

176

0.85

DARK REIGN DEADPOOL THUNDERBOLTS TP

$12.99

MAR

585

177

0.85

PREACHER TP VOL 01 GONE TO TEXAS NEW EDITION (MR)

$14.99

DC

584

178

0.83

STAR COMICS TP ALL-STAR COLLECTION VOL 01 GN

$19.99

MAR

576

179

0.83

MARIA HOLIC GN VOL 02 (OF 3) (MR)

$10.99

TOK

571

180

0.83

OISHINBO VOL 06 JOY OF RICE

$12.99

VIZ

570

181

0.81

FABLES TP VOL 02 ANIMAL FARM

$12.99

DC

561

182

0.81

SANDMAN TP VOL 01 PRELUDES & NOCTURNES

$19.99

DC

556

183

0.80

WALKING DEAD TP VOL 03 SAFETY BEHIND BARS

$14.99

IMA

554

184

0.80

SA GN VOL 13

$9.99

VIZ

549

185

0.79

KUROHIME TP VOL 14

$9.99

VIZ

547

186

0.79

BLUE SHEEP REVERIE GN VOL 02 (OF 2) (MR)

$12.95

DIG

545

187

0.79

SWANS IN SPACE GN VOL 01 (OF 3)

$8.99

UDO

545

188

0.78

JUNGLE GIRL HC VOL 02 OVERSIZED

$19.99

DE

541

189

0.78

HIGH SCHOOL DEBUT GN VOL 12

$9.99

VIZ

541

190

0.78

SUNDOME GN VOL 06 (MR)

$12.99

HAC

537

191

0.78

JAMES BOND OMNIBUS

$16.95

TIT

537

192

0.78

BEAST MASTER GN VOL 01

$9.99

VIZ

536

193

0.77

FINAL CRISIS HC

$29.99

DC

532

194

0.77

SELFISH MR MERMAID GN VOL 02 (OF 2) (MR)

$12.95

DIG

532

195

0.77

SPIDER-MAN SHORT HALLOWEEN PREM HC

$19.99

MAR

531

196

0.76

BATMAN THE KILLING JOKE SPECIAL ED HC

$17.99

DC

525

197

0.76

PIM & FRANCIE IN GOLDEN DAYS HC

$28.99

FAN

525

198

0.76

BORGIA HC VOL 03 FLAMES (MR)

$14.95

HEA

523

199

0.76

YOUR AND MY SECRET GN VOL 05 (OF 5)

$10.99

TOK

521

200

0.74

IKIGAMI ULTIMATE LIMIT GN VOL 03 (MR)

$12.99

VIZ

509

201

0.74

INVINCIBLE IRON MAN TP VOL 02 WORLDS MOST WANTED

$14.99

MAR

508

202

0.73

FAMILY CIRCUS LIBRARY HC VOL 01

$39.99

IDW

506

203

0.73

HAYATE COMBAT BUTLER TP VOL 13

$9.99

VIZ

501

204

0.72

BOMB TP

$14.95

ASY

500

205

0.72

BLACK BIRD GN VOL 02

$9.99

VIZ

499

206

0.71

FABLES TP VOL 03 STORYBOOK LOVE (MR)

$14.99

DC

491

207

0.71

BOYS TP VOL 02 GET SOME (MR)

$19.99

DE

489

208

0.70

BTVS SEASON 8 TP VOL 05 PREDATOR & PREY

$15.95

DAR

486

209

0.70

LA SATANICA GN (MR)

$12.95

DIG

483

210

0.70

ARKHAM ASYLUM ANNIVERSARY ED SC (MR)

$17.99

DC

482

211

0.70

Y THE LAST MAN TP VOL 02 CYCLES (MR)

$12.99

DC

482

212

0.70

TRANSFORMERS BEST O/T UK CITY OF FEAR TP

$19.99

IDW

482

213

0.69

FARSCAPE UNCHARTED TALES HC VOL 01 DARGOS LAMENT

$24.99

BOO

476

214

0.69

OTOMEN GN VOL 04

$9.99

VIZ

475

215

0.69

WALKING DEAD HC VOL 04

$34.99

IMA

474

216

0.68

HULK WWH TP

$24.99

MAR

470

217

0.68

BATMAN RIP DELUXE EDITION HC

$24.99

DC

466

218

0.67

KINGDOM COME TP NEW EDITION

$17.99

DC

464

219

0.67

CIAO CIAO BAMBINO GN

$12.95

DIG

462

220

0.67

TALES FROM WONDERLAND TP VOL 01

$12.99

ZEN

461

221

0.67

BOYS TP VOL 03 GOOD FOR THE SOUL (MR)

$19.99

DE

459

222

0.66

100 BULLETS TP VOL 01 FIRST SHOT LAST CALL

$9.99

DC

458

223

0.66

24 OMNIBUS TP VOL 01

$24.99

IDW

453

224

0.65

UNKNOWN HC VOL 01

$24.99

BOO

449

225

0.65

MILLENNIUM PRIME MINISTER GN VOL 02 (OF 4)

$12.95

DIG

449

226

0.65

FAT FREDDYS CAT OMNIBUS (MR)

$29.99

DIA

447

227

0.65

BATMAN YEAR ONE DELUXE SC

$14.99

DC

445

228

0.64

PREACHER TP VOL 02 UNTIL THE END OF THE WORLD NEW EDITION (M

$14.99

DC

440

229

0.64

INU YASHA VIZBIG ED GN VOL 01

$17.99

VIZ

440

230

0.63

JUDGE DREDD COMPLETE CASE FILES TP VOL 14

$32.50

DIA

434

231

0.63

BAKUGAN BATTLE BRAWLERS GN VOL 03 FEUD BETWEEN FRIENDS

$7.99

RAN

434

232

0.63

CSI OMNIBUS TP VOL 01

$24.99

IDW

433

233

0.63

CIVIL WAR TP

$24.99

MAR

433

234

0.62

LOVE COM TP VOL 15

$9.99

VIZ

429

235

0.62

GREEN LANTERN SINESTRO CORPS WAR TP VOL 02

$14.99

DC

427

236

0.62

DEVIL INSIDE GN

$12.95

DIG

427

237

0.61

FUTURE DIARY GN VOL 04 (OF 6) (MR)

$10.99

TOK

424

238

0.61

BLANKETS GN

$29.95

TOP

424

239

0.61

TRAIN TRAIN GN VOL 03 (OF 3)

$12.95

DIG

423

240

0.61

GREEN LANTERN REBIRTH TP

$14.99

DC

419

241

0.60

GIN TAMA TP VOL 15

$9.99

VIZ

415

242

0.60

GREEN LANTERN SINESTRO CORPS WAR TP VOL 01

$14.99

DC

412

243

0.59

SCALPED TP VOL 05 HIGH LONESOME (MR)

$14.99

DC

404

244

0.58

BLOOD SONG SILENT BALLAD GN DHC ED

$19.95

DAR

403

245

0.58

Y THE LAST MAN TP VOL 03 ONE SMALL STEP (MR)

$12.99

DC

403

246

0.58

JOKER HC

$19.99

DC

400

247

0.58

CAPTAIN AMERICA TP VOL 01 DEATH OF CAPTAIN AMERICA

$14.99

MAR

399

248

0.57

RECORD OF A FALLEN VAMPIRE GN VOL 07

$9.99

VIZ

393

249

0.56

HULK TP VOL 01 RED HULK

$19.99

MAR

386

250

0.56

SANDMAN TP VOL 02 THE DOLLS HOUSE

$19.99

DC

385

251

0.56

PRINCE OF TENNIS GN VOL 34

$9.99

VIZ

385

252

0.56

HULK TP PLANET HULK

$34.99

MAR

383

253

0.55

ME & MY BROTHERS GN VOL 10

$10.99

TOK

382

254

0.55

Y THE LAST MAN TP VOL 10 WHYS AND WHEREFORES (MR)

$14.99

DC

381

255

0.55

FABLES TP VOL 04 MARCH OF THE WOODEN SOLDIERS (MR)

$17.99

DC

377

256

0.55

HONEY HUNT TP VOL 03

$9.99

VIZ

377

257

0.55

MMW AMAZING SPIDER-MAN TP VOL 03

$24.99

MAR

376

258

0.55

TALES FROM THE CRYPT GN VOL 08 STINKY DEAD KID

$7.95

NBM

376

259

0.54

BATMAN MONSTERS TP

$19.99

DC

375

260

0.54

SCALPED TP VOL 01 INDIAN COUNTRY (MR)

$9.99

DC

375

261

0.54

FULLMETAL ALCHEMIST TP VOL 20

$9.99