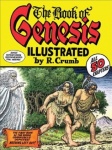 R. Crumb's The Book of Genesis settled in at #1 in bookstores for the key month of December, its second month at #1 (see "Genesis Is #1"), its third in the top two, and its fourth in the top ten. The title held its #1 position despite thin inventory in some locations.
The only new title in the top ten was the latest volume of Bleach, which debuted at #5. Two Big Two releases from November, DC's Batman: Battle for the Cowl HC and Marvel's Wolverine: Old Man Logan HC, made the top 20 for the first time in December, at #s 12 and 13, respectively. Marvel's The Wonderful World of Oz HC, which has been quietly building since its September release, debuted on the list at #15.


BookScan Top 20 Graphic Novels in December 2009

Rank

Title

Author

Publisher

1

THE BOOK OF GENESIS ILLUS. BY R. CRUMB HC

ROBERT CRUMB

W. W. NORTON

2

THE ZOMBIE SURVIVAL GUIDE: RECORDED ATTACKS

MAX BROOKS

THREE RIVERS

3

WATCHMEN TP

ALAN MOORE

DC COMICS

4

NARUTO VOL. 46

MASASHI KISHIMOTO

VIZ MEDIA

5

VAMPIRE KNIGHT VOL. 8

MATSURI HINO

VIZ MEDIA

6

BLEACH VOL. 29

TITE KUBO

TOKYOPOP

7

MAXIMUM RIDE: THE MANGA VOL. 2

JAMES PATTERSON

YEN PRESS

8

MAXIMUM RIDE: THE MANGA VOL. 1

JAMES PATTERSON

YEN PRESS

9

FULLMETAL ALCHEMIST VOL. 21

ARAKAWA HIROMU

VIZ MEDIA

10

NARUTO VOL. 45

MASASHI KISHIMOTO

VIZ MEDIA

11

V FOR VENDETTA TP

ALAN MOORE

VERTIGO

12

BATMAN: BATTLE FOR THE COWL HC

TONY DANIEL

DC COMICS

13

YOTSUBA&! VOL. 7

MARK MILLAR

MARVEL COMICS

14

WOLVERINE: OLD MAN LOGAN HC

KIYOHIKO AZUMA

YEN PRESS

15

THE WONDERFUL WIZARD OF OZ HC

ERIC SHANOWER

MARVEL COMICS

16

SOUL EATER VOL. 1

ATSUSHI OHKUBO

YEN PRESS

17

BLACK BIRD VOL. 2

KANOKO SAKURAKOJI

VIZ MEDIA

18

VAMPIRE KNIGHT VOL. 1

MATSURI HINO

VIZ MEDIA

19

ONE PIECE VOL. 23

EIICHIRO ODA

VIZ MEDIA

20

ASTERIOS POLYP

DAVID MAZZUCCHELLI

PANTHEON
Also new to the top 20 were two other December releases, Yen Press's Yotsuba&! Volume 7 and Viz's One Piece Volume 23 (the last volume before the title goes on its accelerated release schedule, see "Viz Speeding Up One Piece").
There were 12 manga (including two OEL) titles in the top 20 in December.
The rankings, provided by Nielsen BookScan, track the bestselling U.S. adult graphic novels in major book chains, mass merchants, online retailers, and some independent retailers using POS data from December 6th to January 3rd. Titles racked in the Kids or YA sections do not appear in this list.
For charts from other months, see the "BookScan Top 20 GNs Index."