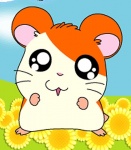 Hamtaro, the anime series about a 10-year old girl and her pet hamster, debuted on the Cartoon Network in June and has been a surprise ratings success. The 7 a.m. broadcast pulls in more children age 9-14 than any other show on any network, cable or broadcast. So far Hamtaro has garnered strong ratings no matter if it is shown early in the morning or as part of the late afternoon Toonami Block. The most surprising aspect of the show's popularity is that it earns its highest ratings with boys from 9-14. The lure that draws in the male demographic is the show's humor, which enlivens each self-contained episode. Viz also reported that the Hamtaro action at their Anime Expo booth fit that profile, with an older, more male crowd than expected. For pop culture retailers, this demographic profile means that there's more merchandising potential than one might expect given the subject matter.
Retailers can expect to see a lot more Hamtaro merchandise in the fall.

The little hamster has been one mighty rodent when it comes to moving merchandise with some $2.5 billion dollars worth of Hamtaro goods purchased in Japan in just the past two years.

In the U.S. Viz will start publishing Hamtaro comics in August, while Hasbro will have a line of Hamtaro toys including play sets, mini-figurines, and plush dolls, and Nintendo plans to launch the first U.S. Hamtaro video game in November.

It's too early to tell if Hamtaro will be a major property for pop culture stores, but the early returns look surprisingly positive.