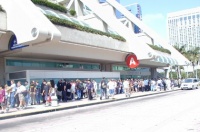 The largest comic/pop culture convention in the U.S. just keeps getting bigger.

This year, exhibition space for the San Diego Comic-Con International grew by 25% to 350,000 square feet.

The show presents the entire panoply of pop culture products in greater abundance than ever, with more comics, more toys, more games, more anime, more sculptures, more video games, more manga, more apparel items, and more of a Hollywood presence than ever.

The quality and diversity of pop culture offerings appear to insure the success of this year's show.

Optimists are suggesting that total attendance could break 60,000 and shatter previous records by a wide margin.
In contrast to the uncertainty of the American economy in general, the mood at San Diego among publishers, retailers and media types alike appears to be upbeat -- and why not, comic orders have grown steadily so far this year, while Hollywood is two-thirds of the way through a record-breaking summer at the box office.

In fact many of the top performing films of the past year (Blade II, Spider-Man, Men In Black II) validate the Hollywood/comics connection, which continues to expand.
Movies have a high profile here in San Diego, thanks to
Spider-Man's
stunning success and the eager anticipation for such projects as
The Incredible Hulk
,
Daredevil
,
Hellboy
,
Batman vs. Superman
, and
X-Men 2
, but hit television series are also making their presence felt at this year's show.
The WB hit
Smallville
has spawned cards, comics and toys, and fans are clearly hoping that
Birds of Prey
will turn into another comic book-based hit.
But the Hollywood/comic book connection is clearly becoming a two-way street.
The number one dramatic series on television,
CSI: Crime Scene Investigation
will now have a comic book series of its own thanks to IDW (see '
CSI Comic From IDW
'), while the best ABC series in years, Alias will have trading cards, comics and toys in the near future.
This year's San Diego Comic-Con reflects the ever-changing nature of American pop culture with unusual clarity.

Energized by a growing interest in fantasy and science fiction, by a new found respectability for comics and graphic novels in both bookstores and movie houses, and by a profound influence from Asia (especially from Japan), American pop culture appears to be poised on the threshold of a golden age.

It may be messy and unfocused, but it is brimming with vitality, experimentation and potential.