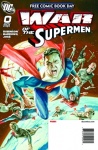 DC Comics has responded to retailer concerns and increased the size of the Free Comic Book Day War of the Supermen comic written by James Robinson to standard trim size (6.625" x 10.1875"). DC had originally announced that it would be releasing the FCBD War of the Supermen in a slightly smaller (6.2" x 9.5") size, but retailers objected noting that, aside from racking and display issues, there is a real value to introducing new readers to the standard comic book format.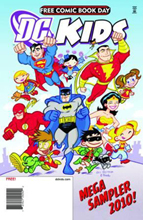 The
DC Kids Mega Sampler 2010 Edition
, which will also be available for Free Comic Book Day, will remain in the smaller format (6.1875" x 9.5").