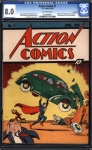 A CGC 8.0 copy of Action Comics #1 has been sold for $1 million to an unidentified buyer in an auction that closed Monday on ComicConnect.com. This more than triples the previous record for a vintage comic, the $317,200 paid for a 6.0 copy of the same title last year (see "Action Comics #1: $317,200").
Only 100 copies of Action Comics #1 exist, and only two copies have been graded at 8.0 or higher. The 1938 comic was the first appearance of Superman and the beginning of the superhero genre.
ComicConnect founder Stephen Fishler said in a post on his site that he'd sold the same copy of Action Comics #1 for $150,000 only 15 years ago.
Meanwhile, another auction of a key high-grade book is taking place at Heritage Auctions. An 8.0 copy of Detective Comics #27, the first appearance of Batman, is currently being auctioned by Heritage. The book is one of two CGC 8.0 copies of the issue known to exist; there are none graded higher.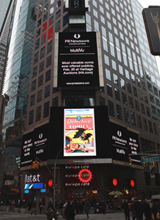 The display in
Times Square
shown here must have helped.
The current bid, including Buyer's Premium, is $425,000 plus Buyer's Premium for a total of $507,875.
That price would have set a new record but for the sale of the
Action
#1 this week.
The auction will close
on Wednesday.