Although the trend lately has been from comics into film, Dark Horse is one comic publisher that has always done well with comic book series based on movies such as its line of Star Wars comics or its innovative pairing of Aliens Vs. Predator (that appears to have spawned a movie of its own). Dark Horse's secret is simple: whenever possible, don't do a straight adaptation--instead use the characters from the film in new adventures. For 2003 Dark Horse has lined up a number of exciting licensed projects that are going to be much more than mere comic book versions of screen stories.
XXX
The action film, starring Vin Diesel as an 'extreme' athlete turned government agent, is about to open in theaters, but Dark Horse's comic series won't be out until the first quarter of next year, which is all right because the comics will tell stories that take place both before and after the actions chronicled in the movie.
Reign of Fire
This fantasy adventure film is still in theaters, but the Dark Horse comic series won't be out until later this year. Once again the comic series won't regurgitate the film, but tell new stories about a world beset with dangerous fire-breathing dragons.
Shrek
Shrek surprised almost everyone with a stellar turn at the box office topped off with the first Academy Award for feature animation. A sequel to Shrek is in the works, but once again Dark Horse is going to use the characters from the film to tell hilarious new stories that poke fun at the conventions of fairy tales. Look for the first Shrek comics from Dark Horse sometime in 2003.
Tooth Fairy
The Tooth Fairy is a horror film slated to release this winter. McFarlane Toys is producing a great action figure based on the film, while Dark Horse is readying a $3 one-shot comic 'prequel' by Joe Harris and Charlie Adlard, entitled Tooth Fairy: The Tragic Life of Matilda Dixon, which will come out about a month before the film debuts.
Shinobi
Shinobi is an old arcade video classic that is soon to be released as a Playstation II game. Dark Horse is creating a comic that takes its narrative drive from the conflicts in feudal Japan that fuel the Shinobi video game. The Dark Horse comic series should debut in late 2002.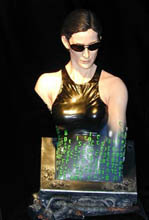 Merchandise: The Matrix
In conjunction with Gentle Giant Studio, the company that does much of the computerized scanning of actors that results in action figures and statues with a truly amazing likeness (and which will actually produce the busts), Dark Horse will release a series of busts based on The Matrix Reloaded, the sequel to the hugely popular Matrix film from 1999. Both the Gentle Giant Matrix busts and the Matrix Reloaded itself will debut in 2003.
Cowboy Bebop
Dark Horse is releasing two busts based on characters from the Cowboy Bebop anime series.

Once again Gentle Giant will provide the superb sculpts and Dark Horse will market the busts along with a super cool Cowboy Bebop Zippo Lighter to the waiting hordes of anime fans.