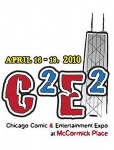 We recently caught up with Reed Exhibitions Group Vice President Lance Fensterman (who also handles the group's other pop culture shows, including New York Comic Con, see "Reed's Pop Culture Group Grows") to talk about the upcoming launch of C2E2, the company's new show in Chicago.
We're about a month out from C2E2. How are things going in terms of preparation for the show?
I think well. You never know until you put it live out there and people walk around in it. We're feeling good. The exhibits are almost maxed out in terms of the way we've drawn the floor plan. We're quite a bit bigger than the first year of New York Comic Con. We're actually nearly as big as the second year of New York Comic Con, which is awesome. We've had really strong support from the exhibitor community. The guests continue to trickle out. The embrace from the fans in the Chicagoland area has been really humbling. It's been great. We got four weeks to go. It's when things get serious now. I'll tell you in four weeks for sure. But it feels good. It feels very good.
What do you think the biggest draws are going to be on the fan side?
We're going to announce the programming next week and that obviously is going to start to get people a little more excited. Right now it's exhibitors and guests that we've got out there. I actually think the chance to look at and check out the Iron Man memorabilia will be cool. It's a fun show feature whether you can afford to bid on it or not. I'm pretty psyched about Chris Ware. I'm a big fan but also he just doesn't come out to a lot of events. He'll have his cult following. We're going to have a lot of the folks from the new brain trust of DC on hand. Geoff Johns is a guest of honor of course. People are going to be curious to know what's going on with the all new structure.
We announced Neil Gaiman--the tickets are going extremely fast for his event on Saturday night. I think that's going to be pretty cool. We've got local hero Alex Ross, and we've got a really strong cross section of great comics creators. Early to say but hopefully a little bit of everything for everybody.
Let's talk a little bit about our world, the ICv2 world, which is the trade and professional audience. The Diamond Summit is being held just before the show, kind of leading up to the show, so there's that for retailers. What other activities, events, hours on the floor etc. do you have planned for the trade and professional attendees?
We've kind of made our name by having a good hybrid, a massive fan con where business gets done as well, and we feel like that's going to carry over in Chicago, although it's sort of a different flavor than New York.
We've actually extended the professional registration until the 19th of March. So if you're a retailer or a librarian or a book seller or a creator you're eligible for a free pass. So buy that now or we will make you pay.
We've got the 10:00 to 1:00 trade hours on Friday. It's a good chance to actually get that kind of morning preview of the show, get out and talk to the companies and the publishers and the manufacturers and the retailers and everybody that's there to do a little business.
The Diamond Summit we think is going to be a nice addition to have, with hopefully around five hundred of the top retailers in the country in Chicago; they're doing that before the show begins.
We've got some nice line-ups of trade programming. We're doing some stuff together with ComicsPro. We really think they're an important force in the industry. We're doing some interesting programming in conjunction with the ALA geared towards librarians that we think will be valuable. We've got a few other trade-focused panels like we always do.
We got a nice confirmation this week. I can't name names, but two national retailers that buy significant numbers of books will be well represented with buyers at the show. We think that's really important for our customers, that we work to bring in those buyers. Some of them are not huge in the pop culture space and they're looking to kind of get an education and start to buy in this space. We hope that maintains our commitment to growing the industry, not just trotting out some guests and collecting gate fees but rather doing something that helps our entire business a little bit.
Other than financially, how will you evaluate success, in terms of attendance or turn-out or other factors?
I feel we've got success in terms of our exhibiting customers. We've vastly exceeded our expectations in terms of what participation from exhibitors look like. It's really going to be a very large show floor. I'm very proud of that. I also feel that we've been relatively successful in the artists embraced, and the creator-community embraced in the event. I'm very pleased with that.
We continue to work with TV and film studios and that is still an open item. We feel like we're going to have solid content from a number of film and TV studios. They always come late so that's an incomplete right now.
The next big question is the fans. Right now are ticket sales are significantly stronger than year one of New York Comic Con. We feel like we're doing well in the sales. The next four weeks will tell the story on the gate. Lastly, the big measure for success is, what's the buzz? What are the stories that come out of the show, what is the coverage the show gets, is it raising the profile of our industry in a way that's beneficial to the entire community? We've got five areas of measurement and I feel like right now we've got at least three out of five looking solid and the other two remain to be seen.
One of the things that's been talked about a little bit in the run-up to this show was the positioning versus the long-running Chicago-area show that Wizard runs. It seems like the marketing has been fairly aggressive. I'm looking at a poster on your blog that has an invitation from last summer. The "Get the F Out of Rosemont Party," and down below it says, "wash the stink of Rosemont off with booze." Your ad that's running now I think says something like "The show that Chicago deserves." You seem to be positioning the show very aggressively against the Wizard show. Can you talk a little bit about that?
Sure. The blog post you referred to is actually Chicago Comics threw a party and that was their invitation. They asked us to put it up for them so we did. So point of order, that's actually their copy, not our copy.
You put it up.
Yeah. Absolutely. We're supporting a good customer and a partner. My point is I didn't write the copy.
So you don't agree that you're positioning yourself fairly aggressively against the Wizard show?
We're positioning ourselves aggressively in the marketplace. We are in Chicago because frankly our customers asked us to be, and by our customers I mean our exhibiting customers. This goes back a couple of years now. When enough customers ask you to do something it makes good business sense to do it. At that point, when we decided we were going to do this we knew it would be difficult to do it and to do it well.
We needed to make sure we differentiated ourselves. We felt like the downtown location was something our customers were asking for. That was the key to sort of show the difference between the two events, and also running them at distinctly different times of the year was also important to it.
We felt like it was an important market for our customers that they wanted us to be in. So we launched. If we're going to do something we want to do it as well as we possibly can and not, on April 19, feel like, "Boy, I really wish we had done this. Or we'd done that." We were definitely being aggressive. It's the right way to approach any new project and particularly when you're in a competitive space.
A lot of booksellers have been to McCormick Place in the last ten years. People from the comic business may not have been, fans may not have been. Can you talk a little bit about the transportation, parking, lodging around the convention center?
We've definitely tried to educate people knowing it's a new venue, knowing it's different from what they're accustomed to. Probably a lot of fans haven't had a reason to go to McCormick Place in quite a while. We've tried to educate them well. We've negotiated what we feel are our pretty good hotel rates that you can get through our travel page, but also you can always hit the discount travel sites. Typically you can find pretty good deals, especially this show's early enough in the year that there are some hotels. We're running shuttles from the closest El-stop, which is about eight or nine blocks away. We run shuttles all day long from all of the convention hotels. There's a metro stop that actually comes directly into McCormick Place building. There's a parking ramp both next door Lakeside Center, which is our building within McCormick, and there's a parking garage which is right beneath Lakeside, which is right in the building. It's not inexpensive, but it's not crazy expensive. I think it's nineteen bucks for the day.
We feel like between the metro, the El, and the shuttles that we're running and the parking that there are different options for everybody who can get to the show depending on where they're from. It is downtown Chicago. It's far from impossible to find your way into the city and to the building.
There are multiple buildings at the venue--what building is it in at McCormick Place?
There are actually four buildings in the complex. We are in Lakeside Center which is literally next to the lake. There are the North, South, and West Hall, all of which are fairly massive buildings unto themselves. We are in Lakeside which is the building just on the shores of Lake Michigan.
Anything else you want to get out there about the show?
Just that we hope that the guest line-up and the exhibitor line-up really speaks for itself. We're looking to have a good time in downtown Chicago and hopefully launch kind of a new tradition on the shores of Lake Michigan.