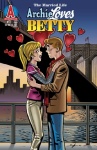 Archie Comics will introduce two new series depicting the life of Archie as married to Betty and Veronica in July. The new series, The Married Life: Archie Loves Veronica and The Married Life: Archie Loves Betty, will tell the stories of Archie after the marriages described in the recent Archie wedding stories (see "The Girl Not Taken"), which were the most successful Archie issues in recent memory.
As for the stories' place in Archie continuity, the announcement describes the stories as "what might be in Archie's most passionately debated futures."
Archie is promising a "more literary approach to storytelling" for the new series.