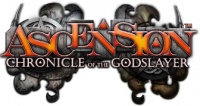 New company Gamer Entertainment will launch Ascension: Chronicle of the Godslayer, a new deckbuilding game, in August. The new game joins Dominion, the highly successful deckbuilding game in a box, in a relatively new category that gives CCG fans a way to enjoy the type of gameplay they prefer at lower cost and without the "chase." Ascension reduces set-up time and increases replayability "…by refreshing the cards that are available during gameplay," according to the announcement.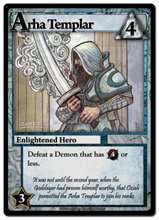 Ascension
was developed by Pro Tour Champions Justin Gary (Gamer CEO, WoW CMG), Rob Dougherty (
Epic CCG
) and Brian Kibler (WoW TCG).
It features multiple factions, demons, heroes, and constructs from different planes in a battle to determine which player will ascend to godhood.
Eric Sabee provides the art for the set.
In-store events and exclusive promo cards will support the launch.