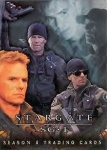 Variety reported that Stargate SG-1, which recently moved from Showtime to the Sci Fi Channel, has been getting great ratings in its new home. In the 9 p.m. (EST) Friday slot, leading into Farscape, Stargate SG-1 has been drawing around 1.3 million households, with an even stronger 1.6 million homes for its mid-season cliffhanger last week.
And the exposure for the property just keeps expanding. Sci Fi is also starting to run four hour blocks of re-runs from the Showtime run on Mondays, beginning at the end of September. That will be around the same time the animated series starts on Fox (see 'Stargate Starts on Fox Box in September').
The merchandise associated with this series regularly shows up on our Top 10 Cool lists.

Next up are the second season DVD box set, due out September 3 (see 'Do Not Attempt To Adjust Your Set'), and Rittenhouse's Season 5 Trading Cards, which are due for release October 16.