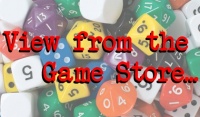 View from the Game Store is a weekly(-ish) column by Marcus King of Titan Games & Music in Battle Creek and Kalamazoo, Michigan. This week, Marcus looks at the development of the game store over the past several decades.
The view of the game industry from the retailer's perspective has changed over the 20+ years that I have been involved in the buying and selling of tabletop games. When I started in 1986, my store was just by the mere coincidence of existing a destination for nerds, dorks and other associated gamer types. (I say this with fondness and no malice, as I myself was a dork-gamer, not being smart enough to be a nerd-gamer.) But with the advent of things like the Internet, eBay, Amazon and other places, the "destination store" category of the game store has quietly been dying for years. After all, when you can hop online at lunch or during an evening commercial break, to shop for the rarest of items then the idea that you might have to go to a special location to find those items becomes a bit antiquated.
Other stores, even other stores I owned, became gaming centers; places to gather and play games. This type of store did well in the 1990s and early 2000's with
Magic: The Gathering
and
Pokemon
and
Clix
games spurring them on. Gamers again found a good reason to make a store their destination of choice. This time not for shopping per se but for GAME-ing. I have often referred to these stores as not being game stores, but being GAME-ing stores where the activity of gaming was first and the sales of games was second. Alas, things like the Xbox 360 and Wii and such, along with stuff like
Everquest
and all the subsequent MMORPGs kind of diluted the pool of gamers willing to travel to game at a store. They could do it from home and do it without the need to "wait for the paladin" to show up. (See, in my gaming groups, it was always the frikkin paladin player who was late and we had to wait for him--even though this person changed many times, it was always the guy playing the paladin who was late!).
Mall stores did well in the late 90's and in many places they still do today. The idea that a person might buy something while shopping for something else is not new and it is what the Mall experience is built upon. Locally, from my POV, I cannot entertain the idea of a Mall store--as the local Mall is so sparse and the idea that the rent would be worth it is something I cannot agree with. Which brings me back to the destination store. Oddly, about 24 years and 3 months after I opened my first store, I have come full circle to owning a destination store, again.
Our current shop has a lot to offer--coffee, usually for free; comics, both new and back issues and a discount bin, as well as rare stuff; new and rare RPGs; hundreds of board games; collectible games; even a game room that will fit 50 gamers. It is quite obviously the most "destination and GAME-ing" store I could afford to build. Now we will see if it will work.
Looking across what's on the horizon for games and gaming, I find many things that excite me and others things which scare me.
Warhammer
is on its 8th edition,
Magic
is coming out with (if I count right) what will be it's 13th "core" set,
Munchkin
just went "all color" and there are a lot of cool new games coming out--including a
Star Trek HeroClix
based ship to ship combat game from WizKids, a new
DC Heroes RPG
from Green Ronin, more
Pathfinder
stuff and
Dragon Age
stuff, and
Traveller
stuff.
But there is also a larger push to make most video games downloadable only--so the future of selling used video games suddenly seems a bit limiting. I am not too worried or I would not have put in the nifty blue and orange checkerboard tile in the store--and spent all this money on building a (better mousetrap) big pretty store. After all, this week I am selling vinyl records, used paperbacks, and Laser Discs along side my PS3 and PSP games, our
Horus Heresy
board games, and our Xbox360 systems.
By the way, I have not placed that hobby order yet but I will let everyone know when I have!
The opinions expressed in this column are solely those of the writer, and do not necessarily reflect the views of the editorial staff of ICv2.com.