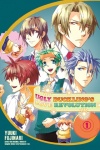 Ugly Duckling's Love Revolution Vol. 1 (Manga)
Publisher: Yen Press
Release Date: July 2010
Price: $10.99
Creator: Yuuki Fujinari
Format: 178 pgs.; B&W
ISBN: 978-0-7595-3175-8
Age Rating: Teen
ICv2 Rating: 1.5 Stars out of 5
Hitomi is an overweight school girl surrounded by extraordinarily beautiful boys. There are five boys--plus one sarcastic, but hot, school nurse--who are the hottest guys in school and all of them live in the apartment complex run by Hitomi's brother. But will any of them be able to see past Hitomi's weight problem to her sweet personality?
Fujinari's manga adaptation of a dating simulation game suffers from the cringe-inducing portrayal of the main character and dull storytelling. There are fewer jokes about Hitomi's weight than expected, but both she and an overweight classmate are drawn as chubby caricatures, whereas all other characters are more fully fleshed out. Hitomi's decision to diet by cutting back on sweets and exercising more is a sound one, but before readers get to that part, they've had to sit through several chapters that are either blandly silly or too sweet. Fujinari doesn't seem to know how to introduce character quirks without using overly broad strokes. There are a bevy of hot boys to pick from, but none of them stand out beyond the archetypes they are meant to represent. Before volume one ends, most readers will have given up on Hitomi's tale.
--
Snow Wildsmith: Writer and former teen librarian and ALA/YALSA committee member.