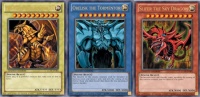 We stopped by the Konami booth at Comic-Con and got the news on the Q4 releases for the Yu-Gi-Oh! TCG, along with some info on the World Championships coming up in Long Beach next month.
2010 is the tenth anniversary of the Yu-Gi-Oh! anime, and to celebrate the occasion, Konami will release a special product, Legendary Collection, on October 5th at $29.99. It will include six booster packs form the early days of the game, including the very first set (Legend of Blue-Eyes White Dragon), plus special variant cards with monsters from the original TV series, including Blue-Eyes White Dragon, Dark Magician, and Red-Eyes B. Dragon; and all three Egyptian God Cards, some of the most desirable monsters ever created.
Structure Deck: Marik
, streeting October 19th at $9.99, features Marik, an adversary of Yugi who first appeared in 2004.
It includes a 40-card, tournament legal deck with two additional Ultra Rare Cards:
Temple of the Kings
and
Mystical Beast of Serket.
The package design for structure decks has been changed with this product, giving it a little more presence with a larger package.
Wave 2 of the 2010 Collectible Tins ($19.99) streets November 2nd. There are no hobby (or other) exclusives this year as part of a reduction in the over-all number of tins for 2010. Last year there were eight in all, including exclusives for the hobby, for Walmart, and for Target. This year, there are five: three in the first series, and two in Wave 2.
Wave 2 consists of The Shooting Star Dragon and Red Nova Dragon 2010 Collectible Tins, each with five Booster Packs and five variant cards. The packs are Stardust Overdrive, Absolute Powerforce, Duelist Revolution, and two packs of The Shining Darkness, plus a bonus pack with one Secret Rare and four Super Rares.
On November 16th, Konami will release Starstrike Blast, a 100-card booster set ($3.99 per pack), with Blackwing monsters, Fusion monsters, and titanic Synchro monsters (with 4500 Attack Points or higher) from upcoming episodes of Yu-Gi-Oh! 5D's.
Hidden Arsenal 3 ($3.99 per pack), a 60-card, all-foil set (20 Secret Rares and 40 Super Rares) will street December 7th. The cards are from the Duel Terminals.
This year's Yu-Gi-Oh! World Championship will be held in Long Beach August 14-15. In addition to the championships, events that are open to the public will also be included. A world championship promo pack, containing ten cards never before released in the U.S. plus ten reprint cards, will be made available to participants. Voice actor appearances, a 20-minute preview of the Yu-Gi-Oh! 3D movie (due for release in the U.S. in the first half of 2011), and other special events will be included.