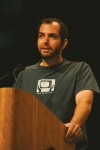 Gregory Noveck, who spent the last 6 years at DC Entertainment, is leaving the company and will resume his career as a producer. Noveck was brought in by Paul Levitz as Senior Vice President of Creative Affairs in order to exploit DC Comics' mammoth library of characters in movies, TV, and animation (see "DC Gets Its Man in Hollywood").
Last September Diane Nelson, who had managed the Harry Potter franchise for Warner Bros., was brought in to head the newly created DC Entertainment and was charged "with strategically integrating the DC Comics business, brand and characters deeply into Warner Bros. Entertainment" (see "Warners Forms DC Entertainment").
According to Nikki Finke's Deadline Hollywood, which broke the story of Noveck's departure, Noveck was "most hands on" with DC's PG-13 rated direct-to-DVD animated features as well as the production of the Secret Origin: The Story of DC Comics documentary, and Summit Entertainment's adaptation of Warren Ellis and Cully Hammer's Red. Noveck is an executive producer on Red, which stars Helen Mirren, Bruce Willis, Morgan Freeman, and Mary-Louise Parker.