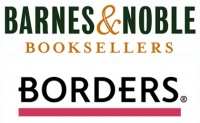 The nation's two largest bookstore chains are in the turmoil you might expect in a business that's undergoing rapid digitization (see "Amazon Selling More E-Books than Hardcovers"), with Borders laying off more employees and Barnes and Noble appearing to move closer to a sale of the company.
Borders had another layoff at its headquarters this week, according to AnnArbor.com, which appears to be the fifth round of layoffs just this year. The number wasn't specified, and a company spokesperson just gave the standard "we have reorganized core areas of our business to ensure that we have the necessary resources in place to support our strategic initiatives." The biggest layoff this year was a massive company-wide layoff (see "Black Thursday at Borders (Again)"), but there have been others, at both headquarters and other locations.
The new CEO, Ben LeBow (see "Ben LeBow Named New Borders CEO") put in $25 million, but that's not even enough to cover even a single quarter's losses at the rate the company's been going (see "Borders Sales Slide").
Meanwhile Barnes and Noble, the healthy, money-making book chain, put itself up for sale last week in an effort to secure more money for its shareholders than its anemic stock price provides.
The fight between B&N management and investor Ron Burkle (see "Burkle Fighting B&N's Poison Pill") appears to be close to a settlement as of Wednesday night, according to the New York Times, which would remove one obstacle that had the potential to block a sale.
Now both of the two largest stockholders, founder Leonard Riggio and Burkle, may be in position to make a play to take the company private, separately or together.