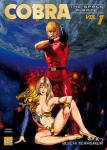 Alexandre Aja, whose 3-D remake of the Roger Corman-produced cult classic Piranha opens this Friday, has acquired the rights to Buichi Terasawa's classic old school seinen manga space opera Cobra. Since the first Cobra installment was published by Shueisha in 1978, Terasawa has created 31 volumes about the psychogun wielding outer space swashbuckler. Cobra's exploits inspired an anime feature film in 1982 as well as a 31-episode TV anime, both of which were produced by TMS and widely distributed in Europe where they fired the imagination of the young Aja.
Aja, whose recent efforts (The Hills Have Eyes, Mirrors, and Piranha 3-D) have all been horror films, told Deadline Hollywood: "I grew up dreaming about Cobra. My day was, finish school, run home and switch on the TV…For many people there is Star Wars and nothing else, but for me and my writing partner Gregory, there is Star Wars and Cobra. There are…so many adventures, pirates and bad guys that it is perfect to be reinvented into a really cool space opera franchise for a new generation."
Though extremely popular in Japan, Europe, and other parts of the world, Cobra has never really caught on here. In 1990 Viz Media (then Viz Communications) published a 12 forty-eight page Cobra comics covering the character's origin story and the Royal Sisters' saga with dialogue adapted to English by Marv Wolfman (Teen Titans). Back in the early days of anime in America, Manga Entertainment released the Space Pirate anime feature and Urban Vision put out a VHS version in 1998, but the property remains largely unknown on these shores.