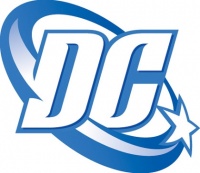 Three top DC Comics executives will be leaving the company as it is pulled into a closer embrace with parent corporation Warner Brothers, and a fourth will retire. Richard Bruning, Senior VP & Creative Director, Cheryl Rubin, Senior VP of Brand Management, and Steve Rotterdam, Senior Vice President Marketing and Sales are all departing and are expected to leave the company by the end of the year.
Bruning, a design maestro who joined DC in the mid-80s, designed the company's current logo, the groundbreaking Watchmen and Dark Knight graphic novel projects, and the look of innumerable DC projects over the years. Bruning left DC in 1990 to form his own company, but rejoined the company in 1996. In recent years Bruning has overseen DC's recently discontinued Zuda Webcomics initiative. He is married to Vertigo EIC Karen Berger.
Rubin joined DC in 1987 and oversaw DC's extensive licensing program as licensing sales manager. During her long tenure on the licensing side of the corporation she also shepherded the creation of DC Direct, the corporation's in-house collectibles division. ICv2 asked DC's co-publishers about this area in an interview in July (see "Interview With DC's Co-Publishers, Part 3"), specifically whether Warner Bros. Consumer Products was taking a larger role in DC licensing. Co-Publisher Dan Didio replied, "I think you're going to see more interaction between DC and Warner Bros. on the consumer product side mainly because they have an incredibly strong and powerful machine and it would be foolish not to take advantage of it."
Rotterdam, a seasoned marketing executive who joined the company in 2007, was in charge of DC's direct market and bookstore sales and marketing as well its advertising sales and custom publishing program. New DC CEO Diane Nelson brought in John Rood as Executive Vice President of Sales, Marketing, and Business Development in February.
Longtime DC financial executive Pat Caldon, who was named Executive Vice President, Finance & Administration by new CEO Diane Nelson in February (see "New DC Executive Team Announced") is reported to be retiring, according to The Beat. DC SVP Creative Affairs Greg Noveck left in August (see "Noveck Ankles DC").
DC is currently in the midst of moving its non-publishing businesses to the west coast, a process that is expected to eliminate or relocate 80 jobs in New York (see "DC's Move West to Affect 80").