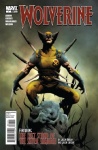 These are estimates of the sales on comic books by Diamond
U.S.
to comic specialty stores during September 2010.

For an overview and analysis of comic sales in September, see "'Wolverine' Tops September Charts."

For an analysis of the dollar trends in September, see "It's Official: Q3 Comic Sales Sucked."

For our estimates of actual sales by Diamond U.S. from comic specialty stores on graphic novels shipped during September, see "Top 300 Graphic Novels Actual--September 2010."

TOP 300 COMICS -- September 2010

Rank

Index

Title

Price

Pub

Est.Qty

1

135.54

WOLVERINE #1

$3.99

MAR

104,414

2

114.82

BRIGHTEST DAY #9

$2.99

DC

88,446

3

113.25

BRIGHTEST DAY #10

$2.99

DC

87,241

4

110.57

GREEN LANTERN #57

$2.99

DC

85,179

5

107.61

BATMAN AND ROBIN #14

$2.99

DC

82,894

6

106.98

AVENGERS #5

$3.99

MAR

82,411

7

100.58

NEW AVENGERS #4

$3.99

MAR

77,479

8

100.00

BATMAN #703

$2.99

DC

77,033

9

90.28

SECRET AVENGERS #5

$3.99

MAR

69,546

10

88.72

AMAZING SPIDER-MAN #641

$3.99

MAR

68,345

11

86.39

X-MEN #3

$3.99

MAR

66,549

12

82.53

GREEN LANTERN CORPS #52

$2.99

DC

63,577

13

81.02

UNCANNY X-MEN #528

$3.99

MAR

62,415

14

80.57

FLASH #5

$2.99

DC

62,063

15

80.30

AMAZING SPIDER-MAN #643

$2.99

MAR

61,855

16

78.04

AMAZING SPIDER-MAN #642

$2.99

MAR

60,115

17

75.69

AMAZING SPIDER-MAN #644

$2.99

MAR

58,310

18

74.79

JUSTICE LEAGUE OF AMERICA #49

$3.99

DC

57,616

19

73.07

GREEN LANTERN EMERALD WARRIORS #2

$3.99

DC

56,289

20

69.46

THOR #614

$3.99

MAR

53,505

21

68.67

THOR #615

$3.99

MAR

52,896

22

66.18

X-MEN LEGACY #240

$2.99

MAR

50,984

23

63.37

DAKEN DARK WOLVERINE #1

$3.99

MAR

48,819

24

62.94

X-23 #1

$3.99

MAR

48,481

25

62.54

AVENGERS PRIME #3

$3.99

MAR

48,173

26

62.29

CAPTAIN AMERICA #610

$3.99

MAR

47,986

27

61.32

INVINCIBLE IRON MAN #30

$2.99

MAR

47,238

28

61.30

SHADOWLAND #3

$3.99

MAR

47,223

29

60.73

HULK #25

$3.99

MAR

46,784

30

60.02

NEMESIS #3 (MR)

$2.99

MAR

46,234

31

58.26

BUFFY THE VAMPIRE SLAYER #36

$2.99

DAR

44,883

32

58.06

DAREDEVIL #510

$2.99

MAR

44,728

33

57.40

GREEN ARROW #4

$2.99

DC

44,220

34

55.97

ULTIMATE COMICS AVENGERS 3 #2

$3.99

MAR

43,119

35

55.76

INCREDIBLE HULKS #612

$3.99

MAR

42,956

36

54.86

FANTASTIC FOUR #583

$2.99

MAR

42,257

37

52.12

BIRDS OF PREY #5

$2.99

DC

40,146

38

52.01

INCREDIBLE HULKS #613

$3.99

MAR

40,063

39

51.99

BATMAN ODYSSEY #3

$3.99

DC

40,046

40

50.56

ASTONISHING X-MEN XENOGENESIS #3

$3.99

MAR

38,951

41

50.44

WONDER WOMAN #603

$2.99

DC

38,852

42

48.54

DETECTIVE COMICS #869

$3.99

DC

37,394

43

48.40

X-FORCE SEX AND VIOLENCE #3

$3.99

MAR

37,283

44

48.23

JUSTICE LEAGUE GENERATION LOST #9

$2.99

DC

37,151

45

47.54

JUSTICE LEAGUE GENERATION LOST #10

$2.99

DC

36,624

46

47.48

JUSTICE SOCIETY OF AMERICA #43

$2.99

DC

36,576

47

47.26

DEADPOOL #27

$2.99

MAR

36,404

48

46.50

STEVE ROGERS SUPER-SOLDIER #3

$3.99

MAR

35,817

49

46.44

ULTIMATE COMICS SPIDER-MAN #14

$3.99

MAR

35,776

50

46.08

AVENGERS CHILDRENS CRUSADE #2

$3.99

MAR

35,497

51

44.07

ACTION COMICS #893

$3.99

DC

33,948

52

43.82

RED ROBIN #16

$2.99

DC

33,753

53

43.80

INVADERS NOW #1

$3.99

MAR

33,739

54

43.74

WOLVERINE ROAD TO HELL #1

$3.99

MAR

33,696

55

42.08

LEGION OF SUPER HEROES #5

$3.99

DC

32,417

56

41.85

THOR FOR ASGARD #1

$3.99

MAR

32,236

57

41.79

THUNDERBOLTS #148

$2.99

MAR

32,190

58

41.54

SUPERMAN BATMAN #76

$2.99

DC

32,003

59

41.13

NEW MUTANTS #17

$2.99

MAR

31,684

60

40.72

BATMAN BEYOND #4

$2.99

DC

31,368

61

40.52

AVENGERS ACADEMY #4

$2.99

MAR

31,212

62

38.56

THANOS IMPERATIVE #4

$3.99

MAR

29,704

63

38.46

X-FACTOR #209

$2.99

MAR

29,626

64

38.24

ASTONISHING SPIDER-MAN WOLVERINE #3

$3.99

MAR

29,455

65

37.08

THOR FOR ASGARD #2

$3.99

MAR

28,563

66

36.92

TITANS #27

$2.99

DC

28,438

67

36.46

JUSTICE SOCIETY OF AMERICA SPECIAL #1

$4.99

DC

28,088

68

35.89

X-MEN CURSE OF MUTANTS SMOKE AND BLOOD #1

$3.99

MAR

27,649

69

35.63

WALKING DEAD #77 (MR)

$2.99

IMA

27,448

70

35.45

SCARLET #2

$3.95

MAR

27,312

71

35.09

ADVENTURE COMICS #518

$3.99

DC

27,028

72

34.87

BATGIRL #14

$2.99

DC

26,861

73

33.68

SECRET WARRIORS #20

$2.99

MAR

25,947

74

33.56

DC UNIVERSE LEGACIES #5

$3.99

DC

25,851

75

33.30

X-MEN CURSE OF MUTANTS X-MEN VS VAMPIRES #1

$3.99

MAR

25,654

76

32.96

ZATANNA #5

$2.99

DC

25,393

77

32.83

ULTIMATE COMICS MYSTERY #3

$3.99

MAR

25,293

78

32.50

SUPERGIRL #56

$2.99

DC

25,034

79

31.86

SHADOWLAND ELEKTRA #1

$3.99

MAR

24,545

80

31.55

FRANKEN-CASTLE #20

$2.99

MAR

24,304

81

31.49

TRUE BLOOD #3

$3.99

IDW

24,254

82

31.39

TIME MASTERS VANISHING POINT #3

$3.99

DC

24,177

83

31.29

RED HOOD LOST DAYS #4

$2.99

DC

24,104

84

31.00

NAMOR FIRST MUTANT #2

$2.99

MAR

23,880

85

30.93

BATMAN STREETS OF GOTHAM #16

$3.99

DC

23,830

86

30.92

GOTHAM CITY SIRENS #16

$2.99

DC

23,821

87

30.31

AMERICAN VAMPIRE #6 (MR)

$3.99

DC

23,349

88

30.19

TEEN TITANS #87

$3.99

DC

23,259

89

29.93

SUPERMAN THE LAST FAMILY OF KRYPTON #2

$4.99

DC

23,059

90

29.76

DEADPOOL WADE WILSONS WAR #4

$3.99

MAR

22,927

91

29.40

SHADOWLAND GHOST RIDER #1

$3.99

MAR

22,645

92

28.41

DEADPOOL CORPS #6

$2.99

MAR

21,888

93

28.10

JSA ALL STARS #10

$3.99

DC

21,646

94

27.68

DARK TOWER GUNSLINGER JOURNEY BEGINS #5

$3.99

MAR

21,323

95

27.56

THOR FIRST THUNDER #1

$3.99

MAR

21,228

96

27.36

MARVEL UNIVERSE VS PUNISHER #3

$3.99

MAR

21,075

97

27.22

DEADPOOL PULP #1

$3.99

MAR

20,965

98

27.16

I AM AN AVENGER #1

$3.99

MAR

20,922

99

27.11

KEVIN SMITH GREEN HORNET #7

$3.99

DE

20,880

100

26.99

BOYS #46 (MR)

$3.99

DE

20,789

101

26.97

SECRET SIX #25

$2.99

DC

20,775

102

26.61

FIRST WAVE #4

$3.99

DC

20,497

103

26.48

MARVEL UNIVERSE VS PUNISHER #4

$3.99

MAR

20,395

104

26.36

SHADOWLAND MOON KNIGHT #2

$3.99

MAR

20,307

105

26.01

FRANKEN-CASTLE #21

$3.99

MAR

20,036

106

25.86

DEADPOOL TEAM-UP #889

$2.99

MAR

19,917

107

25.44

FABLES #98 (MR)

$2.99

DC

19,594

108

25.16

FREEDOM FIGHTERS #1

$2.99

DC

19,378

109

24.92

SHADOWLAND BLOOD ON STREETS #2

$3.99

MAR

19,199

110

24.15

HELLBOY THE STORM #3

$2.99

DAR

18,602

111

24.08

TASKMASTER #1

$3.99

MAR

18,550

112

24.02

BOOSTER GOLD #36

$2.99

DC

18,504

113

24.01

BLACK WIDOW #6

$2.99

MAR

18,499

114

23.89

POWER GIRL #16

$2.99

DC

18,404

115

23.47

SPAWN #199

$2.99

IMA

18,076

116

23.39

CAPTAIN AMERICA PATRIOT #1

$3.99

MAR

18,017

117

23.23

HAUNT #9

$2.99

IMA

17,894

118

23.11

BOYS HIGHLAND LADDIE #2 (MR)

$3.99

DE

17,803

119

23.02

AVENGERS & INFINITY GAUNTLET #2

$2.99

MAR

17,733

120

22.91

SHADOWLAND POWER MAN #2

$3.99

MAR

17,647

121

21.69

STAR WARS OLD REPUBLIC #3

$2.99

DAR

16,705

122

21.43

STAR WARS BLOOD TIES TALE JANGO & BOBA FETT #2

$3.50

DAR

16,506

123

21.30

HAWKEYE & MOCKINGBIRD #4

$2.99

MAR

16,405

124

21.11

SHADOWLAND DAUGHTERS OF SHADOW #2

$3.99

MAR

16,265

125

21.04

INCREDIBLE HULKS ENIGMA FORCE #1

$3.99

MAR

16,206

126

20.99

VALKYRIE #1

$3.99

MAR

16,172

127

20.92

PUNISHER MAX HOT RODS OF DEATH #1 (MR)

$4.99

MAR

16,113

128

20.71

CAPTAIN AMERICA PATRIOT #2

$3.99

MAR

15,950

129

20.70

IRON MAN LEGACY #6

$2.99

MAR

15,949

130

20.60

ANGEL #37

$3.99

IDW

15,865

131

20.56

CONAN THE CIMMERIAN #23

$2.99

DAR

15,837

132

19.94

JOE THE BARBARIAN #7 (MR)

$2.99

DC

15,363

133

19.71

STAR WARS INVASION RESCUES #4

$2.99

DAR

15,181

134

19.67

WEB OF SPIDER-MAN #12

$3.99

MAR

15,155

135

19.63

AMAZING SPIDER-MAN PRESENTS BLACK CAT #3

$3.99

MAR

15,124

136

19.58

WEIRD WAR TALES #1

$3.99

DC

15,085

137

19.46

POWERS #6 (MR)

$3.95

MAR

14,991

138

19.32

HEROIC AGE ONE MONTH TO LIVE #1

$2.99

MAR

14,882

139

19.26

IZOMBIE #5 (MR)

$2.99

DC

14,839

140

18.91

KEVIN SMITH GREEN HORNET ANNUAL #1

$5.99

DE

14,564

141

18.60

BATMAN CONFIDENTIAL #48

$2.99

DC

14,329

142

18.08

GRIMM FAIRY TALES #50

$4.99

ZEN

13,931

143

17.89

NEW MUTANTS FOREVER #2

$3.99

MAR

13,778

144

17.80

DOCTOR SOLAR MAN OF ATOM #2

$3.50

DAR

13,715

145

17.55

ORIGINS OF MARVEL COMICS X-MEN #1

$3.99

MAR

13,518

146

17.52

HEROIC AGE ONE MONTH TO LIVE #2

$2.99

MAR

13,494

147

17.13

GI JOE A REAL AMERICAN HERO #158

$3.99

IDW

13,197

148

17.07

ARTIFACTS #2

$3.99

IMA

13,147

149

17.05

CAPTAIN AMERICA FOREVER ALLIES #2

$3.99

MAR

13,131

150

16.91

HEROIC AGE ONE MONTH TO LIVE #3

$2.99

MAR

13,029

151

16.87

CHEW #14 (MR)

$2.99

IMA

12,993

152

16.71

X-MEN FOREVER 2 #7

$3.99

MAR

12,869

153

16.61

OUR ARMY AT WAR #1

$3.99

DC

12,796

154

16.61

UNWRITTEN #17 (MR)

$3.99

DC

12,796

155

16.56

X-MEN FOREVER 2 #8

$3.99

MAR

12,753

156

16.51

BPRD HELL ON EARTH NEW WORLD #2

$3.50

DAR

12,717

157

16.38

YOUNG ALLIES #4

$2.99

MAR

12,620

158

16.21

ASTRO CITY SILVER AGENT #2

$3.99

DC

12,486

159

15.93

ATLAS #5

$2.99

MAR

12,275

160

15.81

FATHOM BLUE DESCENT #1

$2.99

ASP

12,178

161

15.74

HEROIC AGE ONE MONTH TO LIVE #4

$2.99

MAR

12,127

162

15.48

OUR FIGHTING FORCES #1

$3.99

DC

11,927

163

15.43

GI JOE #22

$3.99

IDW

11,887

164

15.37

G I COMBAT #1

$3.99

DC

11,839

165

15.37

DOC SAVAGE #6

$3.99

DC

11,838

166

15.34

IRREDEEMABLE #17

$3.99

BOO

11,818

167

15.31

SPIDER-MAN FANTASTIC FOUR #3

$3.99

MAR

11,791

168

15.25

REBELS #20

$2.99

DC

11,745

169

15.04

TRANSFORMERS ONGOING #11

$3.99

IDW

11,582

170

14.86

JONAH HEX #59

$2.99

DC

11,444

171

14.57

HEROIC AGE SUPER HEROES #1

$3.99

MAR

11,224

172

14.55

GREEN HORNET YEAR ONE #5

$3.99

DE

11,208

173

14.50

GI JOE ORIGINS #19

$3.99

IDW

11,171

174

14.44

HEROIC AGE ONE MONTH TO LIVE #5

$2.99

MAR

11,126

175

14.40

KEVIN SMITH KATO #4

$3.99

DE

11,089

176

14.31

JACK OF FABLES #47 (MR)

$2.99

DC

11,026

177

14.13

THOR MIGHTY AVENGER #4

$2.99

MAR

10,887

178

14.04

STAR SPANGLED WAR STORIES #1

$3.99

DC

10,815

179

14.02

X-FILES 30 DAYS OF NIGHT #3 (MR)

$3.99

DC

10,803

180

13.99

DOOM PATROL #14

$2.99

DC

10,780

181

13.91

HALO FALL OF REACH BOOT CAMP #1 (MR)

$3.99

MAR

10,715

182

13.89

AVP THREE WORLD WAR #6

$3.50

DAR

10,703

183

13.82

INCORRUPTIBLE #9

$3.99

BOO

10,646

184

13.76

BALTIMORE PLAGUE SHIPS #2

$3.50

DAR

10,601

185

13.73

IRON MAN 2 AGENTS OF SHIELD #1

$3.99

MAR

10,578

186

13.66

WITCHBLADE #138

$2.99

IMA

10,521

187

13.15

HERCULES TWILIGHT OF A GOD #4

$3.99

MAR

10,129

188

13.09

SPIRIT #6

$3.99

DC

10,083

189

12.97

RED SONJA #51

$3.99

DE

9,994

190

12.89

1 FOR DOLLAR BUFFY THE SLAYER

$1.00

DAR

9,931

191

12.89

CROSSED FAMILY VALUES #4 (MR)

$3.99

AVA

9,927

192

12.87

GREEN HORNET STRIKES #3

$3.99

DE

9,914

193

12.79

HELLBLAZER #271 (MR)

$2.99

DC

9,851

194

12.51

PROJECT SUPERPOWERS CHAPTER TWO #12

$2.99

DE

9,637

195

12.20

STAR WARS BLOOD TIES TALE JANGO & BOBA FETT #1

$3.50

DAR

9,400

196

12.10

1 FOR DOLLAR SERENITY THOSE LEFT BEHIND

$1.00

DAR

9,321

197

12.06

MOUSE GUARD LEGENDS O/T GUARD #3

$3.50

ARA

9,289

198

11.98

GI JOE COBRA II #8

$3.99

IDW

9,230

199

11.91

QUEEN SONJA #9

$2.99

DE

9,176

200

11.81

SWEET TOOTH #13 (MR)

$2.99

DC

9,097

201

11.76

SPIKE THE DEVIL YOU KNOW #3

$3.99

IDW

9,060

202

11.65

GI JOE HEARTS AND MINDS #4

$3.99

IDW

8,976

203

11.65

QUEEN SONJA #10

$2.99

DE

8,975

204

11.40

GI JOE COBRA SPECIAL #2

$4.99

IDW

8,785

205

11.38

1 FOR DOLLAR STAR WARS LEGACY

$1.00

DAR

8,769

206

11.30

BART SIMPSONS TREEHOUSE OF HORROR #16

$4.99

BON

8,705

207

11.23

TRANSFORMERS DRIFT #1

$3.99

IDW

8,652

208

11.16

GI JOE HEARTS AND MINDS #5

$3.99

IDW

8,595

209

11.15

SPIKE THE DEVIL YOU KNOW #4

$3.99

IDW

8,593

210

11.11

AZRAEL #12

$2.99

DC

8,559

211

11.09

DAYTRIPPER #10 (MR)

$2.99

DC

8,543

212

10.99

CHARMED #2

$3.50

ZEN

8,464

213

10.94

ANITA BLAKE CIRCUS OF DAMNED CHARMER #4 (MR)

$3.99

MAR

8,427

214

10.90

HIT-MONKEY #3

$2.99

MAR

8,396

215

10.87

COMIC BOOK GUY THE COMIC BOOK #3

$2.99

BON

8,370

216

10.84

TERMINATOR 1984 #1

$3.50

DAR

8,350

217

10.77

DAWN NOT TO TOUCH EARTH (ONE SHOT)

$5.99

IMA

8,296

218

10.73

MORNING GLORIES #2

$3.50

IMA

8,265

219

10.61

HACK SLASH MY FIRST MANIAC #4 (MR)

$3.50

IMA

8,177

220

10.57

X-CAMPUS #4

$4.99

MAR

8,139

221

10.55

TRANSFORMERS DRIFT #2

$3.99

IDW

8,129

222

10.50

HOUSE OF MYSTERY #29 (MR)

$2.99

DC

8,087

223

10.48

TINY TITANS #32

$2.99

DC

8,073

224

10.46

SONIC THE HEDGEHOG #217

$2.99

ARC

8,061

225

10.43

TRANSFORMERS SECTOR 7 #1

$3.99

IDW

8,035

226

10.41

TAROT WITCH OF THE BLACK ROSE #64 (MR)

$2.95

BRO

8,016

227

10.36

MACHETE #0

$3.99

IDW

7,980

228

10.06

GFT PRESENTS NEVERLAND #5

$2.99

ZEN

7,753

229

10.04

BILLY THE KID GHASTLY FIEND LONDON #1

$3.99

DAR

7,733

230

10.01

1 FOR DOLLAR UMBRELLA ACADEMY APOCALYPSE SUITE

$1.00

DAR

7,714

231

9.89

CASANOVA #3 (MR)

$3.99

MAR

7,621

232

9.79

MAGDALENA (ONGOING) #3

$3.99

IMA

7,538

233

9.50

NORTHLANDERS #32 (MR)

$2.99

DC

7,321

234

9.50

SIMPSONS COMICS #170

$2.99

BON

7,320

235

9.40

DARKNESS #86 (MR)

$2.99

IMA

7,242

236

9.40

TFW MAD HATTER VS QUEEN OF HEARTS

$4.99

ZEN

7,238

237

9.34

GOD OF WAR #4 (MR)

$3.99

DC

7,194

238

9.30

GFT INFERNO #3

$2.99

ZEN

7,163

239

9.24

KATO ORIGINS WAY O/T NINJA #4

$3.99

DE

7,114

240

8.91

SCOURGE #1

$2.99

ASP

6,865

241

8.88

GREEN HORNET PARALLEL LIVES #3

$3.99

DE

6,841

242

8.76

SONIC UNIVERSE #20

$2.99

ARC

6,747

243

8.67

GORILLA MAN #3

$3.99

MAR

6,677

244

8.65

TOM STRONG AND THE ROBOTS OF DOOM #4

$3.99

DC

6,661

245

8.64

DARKWING DUCK #4

$3.99

BOO

6,658

246

8.61

1 FOR DOLLAR MAGNUS ROBOT FIGHTER

$1.00

DAR

6,632

247

8.59

DOCTOR WHO ONGOING #15

$3.99

IDW

6,620

248

8.56

AUTHORITY #26

$2.99

DC

6,596

249

8.49

CHOKER #4 (MR)

$3.99

IMA

6,542

250

8.41

1 FOR DOLLAR GROO

$1.00

DAR

6,482

251

8.39

ANGELUS #5

$2.99

IMA

6,465

252

8.24

BATMAN THE BRAVE AND THE BOLD #21

$2.99

DC

6,345

253

8.22

DMZ #57 (MR)

$2.99

DC

6,333

254

8.17

RAWHIDE KID #4

$3.99

MAR

6,290

255

8.15

JURASSIC PARK REDEMPTION #3

$3.99

IDW

6,280

256

8.08

FUTURAMA COMICS #51

$2.99

BON

6,224

257

8.06

LAST DAYS OF AMERICAN CRIME #3 (MR)

$4.99

RAL

6,206

258

8.03

SCOOBY DOO WHERE ARE YOU #1

$2.99

DC

6,186

259

8.01

VERONICA #202

$2.99

ARC

6,167

260

7.98

MARVELMAN FAMILYS FINEST #3

$3.99

MAR

6,151

261

7.96

VELOCITY #2

$3.99

IMA

6,133

262

7.84

STAR TREK CAPTAINS LOG PIKE #1

$3.99

IDW

6,038

263

7.83