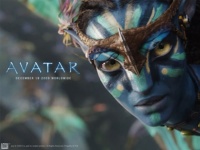 James Cameron has signed a deal with 20th Century Fox to direct two, count 'em two sequels to Avatar, according to Variety. The films will be Cameron's next, and he hopes to start production on the first in late 2011.
Lining up blockbuster December releases behind The Hobbit's dual releases in 2012 and 2013 (see "'The Hobbit' to Shoot in New Zealand"), Avatar 2 is slated for a December 2014 release and Avatar 3 for December 2015, according to the report. It hasn't been decided yet whether both will be shot at the same time.
Avatar is the highest grossing film of all time, with over $750 million in domestic box office receipts and over $2.75 billion worldwide.
With both Avatar films being shot together or back to back, any work by Cameron on his long-awaited version of Battle Angel Alita (see "'Alita: Battle Angel' after 'Avatar 2') is now presumably pushed back for at least half a decade.