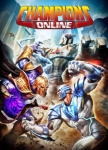 Atari and Cryptic Studios have announced that Champions Online, based on the pen-and-paper Champions RPG, will convert to free-to-play in Q1 2011. A closed beta of the new version of the online superhero game will begin on November 9th.
The online game was launched as a subscription MMORPG in Fall 2009 (see "Champions MMORPG in September").
Like other free-to-play MMORPGs, the business model for Champions Online will rely on premium content that can be purchased a la carte from inside the game. Subscriptions allowing access to most premium content will also be available.