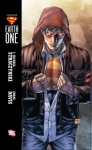 These are estimates of the sales on graphic novels by Diamond U.S. to comic specialty stores during October 2010.
For an overview and analysis of comic sales in October, see "
Top Comic Under 100K
."
For an analysis of the dollar trends in October, see "
Are Comic Sales Better than They Look?
"
For our estimates of actual sales by Diamond
U.S.
from comic specialty stores on comic books shipped during October, see "
Top 300 Comics Actual--October 2010
."
Top 300 GNs -- October 2010

Rank

Index

Title

Price

Pub

Est.Qty

1

45.58

SUPERMAN EARTH ONE HC

$19.99

DC

16,260

2

28.77

WALKING DEAD TP VOL 01 DAYS GONE BYE

$9.99

IMA

10,263

3

21.03

RICHARD STARKS PARKER THE OUTFIT HC

$24.99

IDW

7,501

4

20.05

WALKING DEAD TP VOL 02 MILES BEHIND US

$14.99

IMA

7,153

5

18.82

BTVS SEASON 8 TP VOL 07 TWILIGHT (MR)

$16.99

DAR

6,714

6

18.01

WALKING DEAD TP VOL 03 SAFETY BEHIND BARS

$14.99

IMA

6,426

7

17.46

WALKING DEAD TP VOL 04 HEARTS DESIRE

$14.99

IMA

6,227

8

16.13

HELLBOY TP VOL 11 MASKS AND MONSTERS

$17.99

DAR

5,753

9

13.45

NARUTO TP VOL 49

$9.99

VIZ

4,799

10

12.43

WALKING DEAD HC VOL 06 (MR)

$34.99

IMA

4,433

11

10.27

NORTHLANDERS TP VOL 04 THE PLAGUE WIDOW (MR)

$16.99

DC

3,665

12

10.21

STAR WARS FORCE UNLEASHED GN VOL 02

$11.99

DAR

3,644

13

10.01

IRREDEEMABLE TP VOL 04

$16.99

BOO

3,570

14

8.39

WALKING DEAD TP VOL 12 LIFE AMONG THEM

$14.99

IMA

2,992

15

7.98

LUTHOR HC

$19.99

DC

2,847

16

7.37

STARMAN OMNIBUS HC VOL 05

$49.99

DC

2,630

17

7.35

Y THE LAST MAN DELUXE EDITION HC VOL 04 (MR)

$29.99

DC

2,621

18

7.34

GREEN WOMAN HC (MR)

$24.99

DC

2,617

19

7.21

FINAL CRISIS LEGION OF THREE WORLDS TP

$14.99

DC

2,572

20

7.18

BATMAN LIFE AFTER DEATH HC

$19.99

DC

2,563

21

7.09

ULTIMATE COMICS AVENGERS TP NEXT GENERATION

$19.99

MAR

2,528

22

7.06

SAVAGE SWORD OF CONAN TP VOL 08

$19.99

DAR

2,517

23

7.02

HELLBLAZER INDIA TP (MR)

$14.99

DC

2,506

24

6.93

TOP COW FIRST LOOK TP

$4.99

IMA

2,472

25

6.60

WALKING DEAD TP VOL 11 FEAR THE HUNTERS (MR)

$14.99

IMA

2,353

26

6.53

POWER GIRL ALIENS AND APES TP

$17.99

DC

2,329

27

6.27

WALKING DEAD TP VOL 05 BEST DEFENSE

$14.99

IMA

2,235

28

6.24

CHARLES BURNS X ED OUT GN

$19.95

RAN

2,225

29

6.18

WALKING DEAD TP VOL 09 HERE WE REMAIN (MR)

$14.99

IMA

2,206

30

6.17

X-MEN SECOND COMING REVELATIONS HC

$24.99

MAR

2,200

31

6.09

WALKING DEAD TP VOL 06 SORROWFUL LIFE (MR)

$14.99

IMA

2,173

32

6.03

CONAN TP VOL 09 FREE COMPANIONS

$17.99

DAR

2,152

33

6.00

WALKING DEAD TP VOL 10 WHAT WE BECOME

$14.99

IMA

2,142

34

5.97

SICKNESS IN THE FAMILY HC (MR)

$19.99

DC

2,128

35

5.87

SANDMAN TP VOL 01 PRELUDES & NOCTURNES NEW ED (MR)

$19.99

DC

2,093

36

5.87

SECRET SIX DANSE MACABRE TP

$14.99

DC

2,093

37

5.85

GRIMM FAIRY TALES TP VOL 08

$17.99

ZEN

2,087

38

5.83

STEPHEN KINGS N PREM HC

$24.99

MAR

2,080

39

5.82

WALKING DEAD TP VOL 08 MADE TO SUFFER (MR)

$14.99

IMA

2,077

40

5.77

BATMAN UNSEEN TP

$14.99

DC

2,058

41

5.66

HULK TP VOL 05 FALL OF HULKS

$14.99

MAR

2,018

42

5.62

DARK TOWER LONG ROAD HOME TP

$19.99

MAR

2,005

43

5.52

LOCKE & KEY TP VOL 02 HEAD GAMES

$19.99

IDW

1,969

44

5.51

NEGIMA GN VOL 28 (MR)

$10.99

RAN

1,965

45

5.34

WALKING DEAD TP VOL 07 THE CALM BEFORE (MR)

$12.99

IMA

1,904

46

5.31

SAGA OF REX TP

$17.99

IMA

1,896

47

5.25

VICTORIAN UNDEAD TP

$17.99

DC

1,874

48

5.22

MMW AMAZING SPIDER-MAN HC VOL 12

$54.99

MAR

1,863

49

5.22

TRANSFORMERS PRIME TP

$9.99

IDW

1,861

50

5.21

WONDER WOMAN CONTAGION TP

$14.99

DC

1,859

51

5.18

INCREDIBLE HULK TP VOL 02 FALL OF THE HULKS

$15.99

MAR

1,848

52

5.03

YU GI OH GX GN VOL 05

$9.99

VIZ

1,793

53

5.01

X-MEN NATION X TP

$29.99

MAR

1,788

54

5.00

MARVEL ZOMBIES 5 HC

$24.99

MAR

1,783

55

4.90

SOLOMON KANE TP VOL 02 DEATHS BLACK RIDERS

$15.99

DAR

1,747

56

4.88

JONAH HEX COUNTING CORPSES TP

$14.99

DC

1,740

57

4.86

GREEN LANTERN CHRONICLES TP VOL 03

$14.99

DC

1,735

58

4.84

MMW MIGHTY THOR HC VOL 09

$54.99

MAR

1,725

59

4.81

GANTZ TP VOL 13

$12.99

DAR

1,717

60

4.79

DEADPOOL PREM HC VOL 05 WHAT HAPPENED IN VEGAS

$19.99

MAR

1,710

61

4.72

JUSTICE LEAGUE OF AMERICA WHEN WORLDS COLLIDE TP

$14.99

DC

1,684

62

4.72

ASTONISHING X-MEN EXOGENETIC PREM HC

$19.99

MAR

1,683

63

4.71

FABLES COVERS BY JAMES JEAN HC (MR)

$49.99

DC

1,682

64

4.62

SPIDER-MAN GAUNTLET TP VOL 03 VULTURE & MORBIUS

$14.99

MAR

1,647

65

4.61

ULTIMATE COMICS AVENGERS PREM HC CRIME & PUNISHMENT

$24.99

MAR

1,643

66

4.56

SPIDER-MAN GRIM HUNT PREM HC

$19.99

MAR

1,626

67

4.54

SANDMAN TP VOL 02 THE DOLLS HOUSE NEW ED (MR)

$19.99

DC

1,620

68

4.45

BATMAN STREETS OF GOTHAM HC VOL 02 LEVIATHAN

$19.99

DC

1,588

69

4.45

PREDATORS TP

$19.99

DAR

1,586

70

4.42

BLACK BUTLER TP VOL 03

$10.99

HAC

1,576

71

4.35

HULK PREM HC VOL 06 WORLD WAR HULKS

$19.99

MAR

1,553

72

4.27

SANDMAN TP VOL 03 DREAM COUNTRY NEW ED (MR)

$19.99

DC

1,523

73

4.26

MARVEL UNIVERSE END PREM HC

$29.99

MAR

1,521

74

4.15

7 PSYCHOPATHS TP

$9.99

BOO

1,479

75

4.12

DEADPOOL CORPS PREM HC VOL 01 POOL-POCALYPSE NOW

$19.99

MAR

1,468

76

4.05

WORLD OF WARCRAFT HC VOL 04

$19.99

DC

1,444

77

3.98

CABLE TP VOL 04 HOMECOMING

$15.99

MAR

1,420

78

3.97

CARDCAPTOR SAKURA DARK HORSE OMNIBUS ED VOL 01

$19.99

DAR

1,416

79

3.94

SIN CITY NEW MILLER CVR TP VOL 01 HARD GOODBYE (MR)

$19.00

DAR

1,405

80

3.86

SIN CITY NEW MILLER CVR TP VOL 02 DAME KILL FOR (MR)

$19.00

DAR

1,378

81

3.83

JSA ALL STARS CONSTELLATIONS TP

$14.99

DC

1,368

82

3.78

X-FACTOR TP VOL 09 INVISIBLE WOMAN HAS VANISHED

$14.99

MAR

1,350

83

3.78

BLACK WIDOW DEADLY ORIGIN TP

$14.99

MAR

1,347

84

3.71

DOOMWAR HC

$24.99

MAR

1,322

85

3.69

INCREDIBLE HULK PREM HC VOL 03 WORLD WAR HULKS

$19.99

MAR

1,316

86

3.67

CHOBITS DARK HORSE OMNIBUS ED VOL 02

$24.99

DAR

1,308

87

3.64

KEVIN SMITH GREEN HORNET TP VOL 01 SINS O/T FATHER

$19.99

DE

1,297

88

3.63

SCARY GODMOTHER DARK HORSE ED HC

$24.99

DAR

1,296

89

3.61

NGE SHINJI IKARI RAISING PROJECT TP VOL 06

$9.99

DAR

1,287

90

3.60

MMW ATLAS ERA JOURNEY INTO MYSTERY HC VOL 03

$59.99

MAR

1,285

91

3.57

ESSENTIAL GHOST RIDER TP VOL 04

$19.99

MAR

1,274

92

3.55

ONE PIECE TP VOL 55

$9.99

VIZ

1,267

93

3.53

STAR WARS LONG TIME AGO OMNIBUS TP VOL 02

$24.99

DAR

1,260

94

3.47

SCOTT PILGRIM GN VOL 01 PRECIOUS LITTLE LIFE

$11.99

ONI

1,239

95

3.47

MMW AMAZING SPIDER-MAN TP VOL 05

$24.99

MAR

1,238

96

3.44

PALOOKA VILLE HC VOL 20 (MR)

$19.95

DRA

1,228

97

3.37

HULK WORLD WAR HULKS TP HULKED-OUT HEROES

$19.99

MAR

1,201

98

3.33

HENRY AND GLENN FOREVER GN (MR)

$6.00

MIC

1,188

99

3.33

CONAN HC VOL 09 FREE COMPANIONS

$24.99

DAR

1,187

100

3.32

WALKING DEAD HC VOL 01 (MR)

$34.99

IMA

1,186

101

3.32

HARVEY COMICS CLASSICS TREASURY TP VOL 02 HOT STUFF

$14.99

DAR

1,184

102

3.24

LUCKY STAR GN VOL 06

$10.99

BAN

1,156

103

3.22

GI JOE SPECIAL MISSIONS TP VOL 02

$19.99

IDW

1,150

104

3.22

TRANSFORMERS ANIMATED BOTS OF SCIENCE GN

$3.99

IDW

1,147

105

3.21

ASTRO CITY THE DARK AGE HC BOOK 02 BROTHERS IN ARMS

$29.99

DC

1,145

106

3.17

INU YASHA TP VOL 53

$9.99

VIZ

1,132

107

3.14

DARKSTALKERS RED EARTH TP VOL 01 MALEFICARUM

$12.95

UDO

1,121

108

3.14

SECRET WARRIORS PREM HC VOL 04 LAST RIDE

$19.99

MAR

1,120

109

3.11

DRAGON PUNCHER HC BOOK 01

$9.95

TOP

1,111

110

3.08

WOLVERINE WEAPON X PREM HC VOL 03 TOMORROW DIES TODAY

$24.99

MAR

1,098

111

3.01

NAOKI URASAWA 20TH CENTURY BOYS GN VOL 11

$12.99

VIZ

1,075

112

3.00

THOR VS HERCULES TP

$19.99

MAR

1,070

113

2.98

X-MEN FOREVER TP VOL 05 ONCE MORE INTO THE BREACH

$16.99

MAR

1,063

114

2.93

BLOOM COUNTY COMPLETE LIBRARY HC VOL 03

$39.99

IDW

1,044

115

2.92

MEGAMIND MOVIE PREQUEL TP

$6.95

APE

1,042

116

2.90

JOHNNY BOO HC VOL 04 MEAN LITTLE BOY

$9.95

TOP

1,035

117

2.88

CAPTAIN AMERICA BLACK PANTHER FLAGS OUR FATHERS TP

$14.99

MAR

1,027

118

2.88

DICK BRIEFERS FRANKENSTEIN HC

$21.99

IDW

1,026

119

2.88

SUPERMAN ARCHIVES HC VOL 08

$59.99

DC

1,026

120

2.81

FANTASTIC FOUR BY JONATHAN HICKMAN PREM HC VOL 03

$19.99

MAR

1,003

121

2.72

CHEW TP VOL 01 (MR)

$9.99

IMA

972

122

2.72

THOR AND WARRIORS FOUR TP DIGEST

$9.99

MAR

972

123

2.71

ARCHIE & FRIENDS TP VOL 06 ARCHIES CHRISTMAS STOCKING

$9.95

ARC

965

124

2.70

SUPERMAN NIGHTWING AND FLAMEBIRD HC VOL 02

$24.99

DC

963

125

2.69

X-FACTOR FOREVER TP

$19.99

MAR

959

126

2.66

THUNDERBOLTS PREM HC CAGE

$19.99

MAR

948

127

2.64

GHOST RIDER BY JASON AARON OMNIBUS HC

$49.99

MAR

943

128

2.64

VAMPIRE BOY TP

$24.99

DAR

942

129

2.63

G-MAN TP VOL 02 CAPED CRISIS

$9.99

IMA

937

130

2.61

CHEW TP VOL 02 INTERNATIONAL FLAVOR (MR)

$12.99

IMA

931

131

2.58

JAMES PATTERSONS WITCH & WIZARD HC VOL 01 BATTLE SHADOWLAND

$17.99

IDW

922

132

2.56

WOLVERINE ORIGIN TP

$16.99

MAR

915

133

2.54

WEDNESDAY CONSPIRACY SC

$19.99

DAR

907

134

2.53

DOCTOR WHO ONGOING TP VOL 02 TESSARACT

$19.99

IDW

902

135

2.51

WALKING DEAD COMPENDIUM TP VOL 01 (MR)

$59.99

IMA

895

136

2.48

PROJECT SUPERPOWERS CHAPTER TWO TP VOL 02

$19.99

DE

884

137

2.47

SPIDER-MAN PETER PARKER TP

$14.99

MAR

880

138

2.45

SCOTT PILGRIM GN VOL 02 VS THE WORLD

$11.99

ONI

874

139

2.43

WAR MACHINE CLASSIC TP VOL 01

$24.99

MAR

868

140

2.35

GOON TP VOL 02 MY MURDEROUS CHILDHOOD

$16.99

DAR

838

141

2.29

XXXHOLIC GN VOL 16

$10.99

RAN

818

142

2.25

X-MEN SECOND COMING HC

$39.99

MAR

803

143

2.24

WARCRAFT ESSENTIAL SUNWELL COLLECTION GN

$19.99

TOK

800

144

2.23

KICK ASS PREM HC (MR)

$24.99

MAR

797

145

2.23

PHINEAS & FERB EARLY COMIC READER #3 HEY WHERES PERRY

$4.99

HAR

794

146

2.22

BLACKEST NIGHT HC

$29.99

DC

792

147

2.19

AMERICAN VAMPIRE HC VOL 01 (MR)

$24.99

DC

780

148

2.17

DO ANDROIDS DREAM OF ELECTRIC SHEEP HC VOL 03

$24.99

BOO

775

149

2.17

SAM & TWITCH WRITER TP

$9.99

IMA

775

150

2.13

DE TALES HC

$19.99

DAR

759

151

2.10

WORLDS GREATEST SUPER HEROES TP

$29.99

DC

749

152

2.07

STAR TREK MOVIE ADAPTATION TP

$19.99

IDW

739

153

2.05

SOUL EATER TP VOL 04

$10.99

HAC

732

154

2.04

PANDORA HEARTS GN VOL 03

$10.99

HAC

729

155

2.04

DRACULA PREM HC

$19.99

MAR

726

156

2.02

TOY STORY SOME ASSEMBLY REQUIRED TP

$9.99

BOO

719

157

2.01

CIVIL WAR FANTASTIC FOUR HC

$39.99

MAR

717

158

2.00

BLONDIE HC VOL 01

$49.99

IDW

712

159

1.98

X-BABIES CLASSIC TP GN VOL 01

$19.99

MAR

706

160

1.98

POKEMON ADVENTURES TP VOL 09 2ND ED

$7.99

VIZ

705

161

1.97

SAMURAI HAREM ASU NO YOICHI GN VOL 06 (MR)

$12.99

TOK

702

162

1.96

GUERRILLAS TP VOL 01

$14.99

ONI

700

163

1.96

XKCD TP VOL 00 (MR)

$18.00

PUB

699

164

1.95

DOT HACK LINK GN VOL 02

$10.99

TOK

696

165

1.95

RED TP NEW EDITION

$14.99

DC

696

166

1.95

ART OF NEAL ADAMS SC

$24.95

VAN

695

167

1.94

PERCY JACKSON & OLYMPIANS SC VOL 01 LIGHTNING THIEF

$9.99

HAR

693

168

1.92

FABLES TP VOL 01 LEGENDS IN EXILE

$12.99

DC

686

169

1.92

HOPELESS SAVAGES GREATEST HITS TP VOL 01

$19.99

ONI

685

170

1.92

WOLVERINE OLD MAN LOGAN TP

$29.99

MAR

684

171

1.90

MUPPET SNOW WHITE TP

$9.99

BOO

677

172

1.84

MELANCHOLY OF HARUHI SUZUMIYA GN VOL 07

$10.99

HAC

655

173

1.81

SCOTT PILGRIM GN VOL 06 FINEST HOUR

$11.99

ONI

645

174

1.79

WATCHMEN TP

$19.99

DC

640

175

1.78

STAR TREK LEONARD MCCOY FRONTIER DOCTOR TP VOL 01

$17.99

IDW

635

176

1.77

V FOR VENDETTA NEW EDITION TP (MR)

$19.99

DC

633

177

1.77

DUNCAN THE WONDER DOG TP VOL 01 SHOW ONE (MR)

$24.95

ADH

632

178

1.76

KODT BUNDLE OF TROUBLE TP VOL 30

$12.99

KEN

629

179

1.76

SHOWCASE PRESENTS SUPERMAN TP VOL 01

$19.99

DC

627

180

1.76

VAGABOND TP VOL 33 (MR)

$9.95

VIZ

627

181

1.75

HIGURASHI WHEN THEY CRY GN VOL 09 BEYOND MIDNIGHT PT 1 (MR)

$11.99

HAC

625

182

1.74

MARVEL HER-OES TP GN

$14.99

MAR

622

183

1.74

CELADORE TP VOL 01

$14.99

DC

621

184

1.74

FOUR COLOR FEAR FORGOTTEN HORROR COMICS OF THE 1950S TP

$29.99

FAN

621

185

1.73

STRAWBERRY 100 % TP VOL 14

$9.99

VIZ

617

186

1.73

VAMPIRE KNIGHT OFFICIAL FANBOOK TP

$14.99

VIZ

616

187

1.72

TOP 100 HORROR MOVIES SC

$24.99

IDW

614

188

1.70

CHI SWEET HOME GN VOL 03

$13.95

RAN

608

189

1.70

CODE GEASS KNIGHT GN VOL 02

$10.99

BAN

608

190

1.69

STELLAR SIX GINGACHO GN VOL 01

$10.99

TOK

603

191

1.68

DEAN KOONTZS FEAR NOTHING GN VOL 01 (RES)

$14.99

DE

598

192

1.67

Y THE LAST MAN TP VOL 01 UNMANNED

$12.99

DC

595

193

1.67

SPAWN ORIGINS HC VOL 02

$29.99

IMA

594

194

1.67

WALKING DEAD HC VOL 02 (MR)

$34.99

IMA

594

195

1.65

LIFE & TIMES OF SCROOGE MCDUCK COMPANION HC

$24.99

BOO

590

196

1.65

DC SUPER HEROES ULTIMATE POP UP BOOK

$29.99

HAC

588

197

1.62

EARTH X TP

$29.99

MAR

577

198

1.60

ODD IS ON OUR SIDE GN

$10.99

RAN

571

199

1.59

DISNEY FAIRIES GN VOL 03 TINKER BELL DAY O/T DRAGON

$7.99

NBM

569

200

1.59

SHUDDERTOWN HC (MR)

$19.99

IMA

568

201

1.58

DOCTOR WHO ONLY GOOD DALEK GN

$20.99

RAN

565

202

1.58

SHAUN OF THE DEAD TP (TITAN ED)

$14.95

TIT

565

203

1.57

WOLVERINE BY CLAREMONT & MILLER TP

$16.99

MAR

559

204

1.56

MODELS INC GN TP

$14.99

MAR

557

205

1.55

IRREDEEMABLE TP VOL 03

$16.99

BOO

552

206

1.54

WALKING DEAD HC VOL 05

$34.99

IMA

549

207

1.53

STRAWBERRY PANIC OMNIBUS ED GN

$14.99

ST.

546

208

1.53

SUMMONER GIRL GN VOL 01

$10.99

TOK

546

209

1.53

GOD COMPLEX COMPLETE COLLECTION TP

$24.99

IMA

545

210

1.51

BATMAN THE LONG HALLOWEEN TP

$19.99

DC

539

211

1.51

DAREDEVIL MILLER JANSON TP VOL 01

$29.99

MAR

539

212

1.51

BATMAN THE KILLING JOKE SPECIAL ED HC

$17.99

DC

537

213

1.50

BATMAN YEAR ONE DELUXE SC

$14.99

DC

534

214

1.49

OMAMORI HIMARI GN VOL 01

$10.99

HAC

533

215

1.49

BATMAN DARK KNIGHT RETURNS TP

$14.99

DC

531

216

1.49

SKY DOLL TP VOL 01 (MR)

$19.99

MAR

531

217

1.48

DEADPOOL TP VOL 01 SECRET INVASION

$14.99

MAR

529

218

1.48

BATMAN HUSH COMPLETE TP

$24.99

DC

528

219

1.48

CIVIL WAR FRONT LINE HC

$39.99

MAR

527

220

1.47

MELANCHOLY OF SUZUMIYA HARUHI CHAN GN VOL 01

$10.99

HAC

526

221

1.47

WALLFLOWER GN VOL 22 /23/24 (MR)

$21.99

RAN

524

222

1.47

WAR OF KINGS TP

$24.99

MAR

523

223

1.46

G-MAN TP VOL 01 LEARNING TO FLY

$9.99

IMA

520

224

1.46

WOLVERINE TP ENEMY OF STATE ULTIMATE COLLECTION

$29.99

MAR

520

225

1.45

X-MEN DARK PHOENIX SAGA TP

$24.99

MAR

519

226

1.45

FABLES TP VOL 13 THE GREAT FABLES CROSSOVER (MR)

$17.99

DC

518

227

1.44

DISNEY FAIRIES HC

$9.99

NBM

513

228

1.44

ENDLESS COMFORT GN (MR)

$12.95

DIG

513

229

1.44

SAVING LIFE GN VOL 01 (MR)

$12.99

TOK

513

230

1.43

SCOTT PILGRIM GN VOL 04 GETS IT TOGETHER

$11.99

ONI

511

231

1.42

HOW OBELIX FELL INTO MAGIC POTION TP

$9.95

STE

506

232

1.42

ANCHOR TP VOL 02

$16.99

BOO

505

233

1.40

STAY CLOSE TO ME GN (MR)

$12.95

DIG

500

234

1.39

PERHAPANAUTS TP VOL 00 DARK DAYS

$17.99

IMA

497

235

1.38

EYESHIELD 21 TP VOL 33

$9.99

VIZ

492

236

1.38

DR HORRIBLE TP

$9.99

DAR

491

237

1.38

FISH N CHIPS TP VOL 01

$12.95

STE

491

238

1.38

MARIA HOLIC GN VOL 05 (MR)

$10.99

TOK

491

239

1.38

WALKING DEAD HC VOL 04

$34.99

IMA

491

240

1.37

CROSS GAME TP VOL 01

$19.99

VIZ

490

241

1.37

DAREDEVIL MAN WITHOUT FEAR PREM HC

$24.99

MAR

490

242

1.37

ICONS DC & WILDSTORM ART OF JIM LEE HC

$39.95

TIT

488

243

1.36

DAREDEVIL BY MILLER JANSON TP VOL 02

$29.99

MAR

484

244

1.35

BLACKSAD HC VOL 01

$29.99

DAR

483

245

1.35

RUNAWAYS PRIDE & JOY TP

$14.99

MAR

483

246

1.35

IMMORTAL IRON FIST TP VOL 02 CITIES OF HEAVEN

$17.99

MAR

482

247

1.34

WALKING DEAD HC VOL 03 (MR)

$29.99

IMA

479

248

1.34

PICTURE THIS HC

$29.95

DRA

478

249

1.32

ALL STAR SUPERMAN TP VOL 01

$12.99

DC

472

250

1.32

SCOTT PILGRIM GN VOL 03 INFINITE SADNESS

$11.99

ONI

472

251

1.32

X-FORCE HC VOL 01

$34.99

MAR

472

252

1.32

FINDER GN VOL 02 CAGE I/T VIEW FINDER (A)

$13.95

DIG

470

253

1.32

SECRET WAR TP

$24.99

MAR

470

254

1.31

X-FORCE TP VOL 03 NOT FORGOTTEN

$14.99

MAR

467

255

1.31

IMMORTAL IRON FIST TP VOL 01

$14.99

MAR

466

256

1.30

GRAND GUIGNOL ORCHESTRA TP VOL 01

$9.99

VIZ

464

257

1.30

DAREDEVIL TP MAN WITHOUT FEAR

$19.99

MAR

462

258

1.29

FRANKIE STEIN HC

$14.99