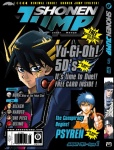 Joel Enos, Senior Editor of Viz Media's Shonen Jump magazine, talked to ICv2 about its upcoming re-launch, the expansion of its Web strategy, including "massive previews," and the relationship between Web content and print sales.
Can you start out by outlining what you are planning for the re-launch of Shonen Jump?
Sure. We announced that we were going to do something different with it at Comic-Con back in July and did a little bit of a teaser of a couple of mock up pages that weren't final.
Basically it's been almost 10 years. The first issue of Shonen Jump came out in December 2002, and we've always tweaked the magazine as we went forward with current trends and what fans are looking for and what manga is coming out or what's new or is popular with our fans.
But after 10 years, the manga industry (and the publishing industry in general) has changed more in the last year or two than it has in the last 10. It was just time for a face lift, but also sort of a renewal, more than a re-launch, where we are splitting our time now with keeping the print edition going and also spending a lot more time doing some digital subscriber-only premiums, content, and an online manga series that will actually be serialized online for subscribers that won't be in the magazine. We're shifting focus a little bit.
You described it as a subscriber site. Is that for subscribers to the print version or is there a separate subscription for the online edition?
It will actually be for both. We've always had information available online that you could read: different articles, and we archive things, and have previews. You could read that and then it would funnel you back into subscribing to the magazine or actually reading the graphic novels.
Now what we're doing is when you get a subscription to the magazine you're actually going to have access to exclusive subscriber-only content online that will be not a separate subscription from the print magazine, it will be all together; it will be integrated. One of the things you'll get is a serialized manga series that is on the Web. That we've never done before.
What's that series going to be?
It's going to be Nura: Rise of the Yokai Clan. We've been covering the anime in the last couple of issues, but we're going to be serializing the manga online. It will start in December.
How is the serialization going to work?
We'll have a certain amount of pages just like we do in the magazine. Right now, for example, we do three chapters of One Piece, Bleach and Naruto in the print magazine. We'll probably keep that schedule as well for the online serializations.
So monthly, three chapters?
Yes.
Will that go to a collection at some point?
Yes. Once we get to a certain point we'll do just what we do with other serialized titles. Whether it's in print or on the Web, we'll collect them up into graphic novels.
We announced our iPad app this week. So there will be a lot of new different formats, not just Web, but also iPad (see "Viz Launches iPad App").
You mentioned that there would be other exclusive content available on the Website?
Yes. We'll have articles that will be specific to the Web readers, and obviously, this is a new project, so we'll be watching to see what sort of people are reading online and paying attention to what those people want. And on top of that we will start doing much larger previews. We've always done previews and what we call "showcases" in the magazine, which are essentially a chapter or two of a new series, or sometimes a fan favorite or series that's on volume 26 in graphic novel but has a new story arc starting that might bring in new readers. So we'll do a chapter in the magazine to promote that. But we're limited by everything from paper costs to the size of the magazine and what else is in the magazine for that month.
On the Web we have a bigger opportunity to show more of the manga so we will be doing what we're calling "massive previews" which will be upwards of a hundred pages at a time. The first two series we'll be doing this with will be Toriko and Bakuman, which we ran in the magazine last year as an extended preview over a couple of months. The fans really reacted to it, they really liked it. The first volume is doing really well. Now what you'll be able to do, if you subscribe, is go on when the new volumes [of the graphic novels] coming out, and read the up to the first 100 pages of that for free with your subscription.
So it's basically the same type of content you have in the magazine but you're expanding the page counts and making more of it available on the Web?
Yes, we're just trying to integrate the two together. It would be great if we could put out a 500- or 700- or 800-page magazine like they currently do in Japan, but we're restricted and we're going to use the Web in a more organized fashion to expand the editorial, expand how many series we can get out there, expand what kind of content is available.
What's going to happen with the print version of the magazine?
As of right now, nothing. It has its own following; it definitely has its place. I personally believe that our younger readers enjoy and are used to having physical books in front of them. There are so many benefits of actually reading a magazine that there are no plans for the magazine to disappear. Mainly what we're doing is just hoping we can expand the audience of people that have access to our manga and editorial by also incorporating the online portion of the subscription.
You described what you were doing as "the new re-launch of the magazine." Did you mean the online part of that?
I think it's a little bit of both because we're giving it a pretty intense face lift. The Shonen Jump logo will be revised and a little bit updated. It looks great. The style of the magazine and the look and feel has been refreshed. We're not getting rid of anything that works already, but we're giving it a little more contemporary look.
What's going to happen to the page count? Is that fairly stable or will that be changing?
It's fairly stable right now. Everyone knows that the print industry has been hit pretty hard up and down with different sorts of issues and the page counts have gone down pretty drastically with all magazines. We've lost quite a few of the newsstand magazines the last couple of years. At this stage right now, we're pretty consistently about 300 per month, and that's where we've been the last couple of months, so that won't be changing.
Now that you're planning to give a higher level of sampling, do you expect that to feed into graphic novel sales?
I think that it will. If you read a hundred pages of something that you think is awesome and you want to read the rest of the story, hopefully you'll want to pick up the graphic novel and read the rest of that. That's what we've seen with the previews, but a lot of times one or two chapters of a new manga is just introductory and may not give you enough to go on to want to keep reading.
I think the opportunity we have with online extended previews is to actually give more of the story to get people more into it and they'll really be able to tell if they like it enough to buy that first volume and to keep going.
What issue is the new look of the magazine going to start with?
The cover date is January 2011. It comes out on December 7th.
Anything else we should know about your plans?
We've been paying a lot of attention over the last year or so at conventions and fan interactions; and talking to people; and events that we've had--just getting the sense that manga was very trendy in a mainstream way with comics and bookstores for a while and a lot of people were converted into being manga fans. But the trend side of that has died away, but that's left us with is some very loyal core fans and manga has become sort of a staple.
Everyone knows what it is now and it's more Shonen Jump's job, as far as I see it, to give the fans what they're looking for in terms of information--cool stuff about their favorite anime, their favorite toys, their manga, giving them a chance to read the manga faster than they could otherwise. Magazine manga is always ahead of the graphic novels in the United States. I also feel like starting some new series will bring in some new fans.
Is Shonen Jump's distribution stable? Are you in the same outlets you've always been in?
We are, but a lot of bookstores are having trouble. The best way to say it is that the landscape is changing. I've heard a lot of doom and gloom like "a lot of people aren't reading magazines, people aren't buying them, people aren't reading books," but what I've been noticing is it's the way people read, that people are reading. Again, as newsstands shrink and bookstores close (we're in San Francisco and we've got book stores closing on a constant basis even though we still have more than a lot of other cities do), [you still have] Target, Walmart, or airport stores and things like that, but I feel like that's going to shrink as well, so that's where giving more to the actual subscriber starts to be more important. You're going to see people less and less picking stuff up off the newsstands, but I don't see that as the end of all things. I think you keep going in that direction, but you keep exploring the new directions of how people are actually picking up your publication as well.
Are you going to make your magazine available as an app or through the iPad app?
There are all kinds of discussion about all kinds of things, but there's no real decision that's been made on that yet. There's a lot of experimenting that's going to happen. For now with the magazine we'll have this two pronged attack of print and Web, and for now that's the most viable. But, we may find out that it's not and move in a different direction.