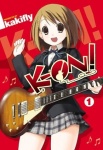 K-ON Vol. 1 (Manga)
Publisher: Yen Press
Release Date: November 2010
Price: $10.99
Creator: Kakifly
Format: 128 pgs.; Black & White
ISBN: 978-0-3161-1933-7
Age Rating: Teen+
ICv2 Rating: 3 Stars out of 5
While this manga collection of 4-panel strips is quite funny, the footnotes in the back of the book are necessary for some of the modern Japanese cultural references. Since even the names of the book, author and central characters have to be annotated, this is slightly distracting on a first reading. For instance, K-ON is a reference to "kei-ongaku," which is a term for pop music. Once you've read them, most of the references really aren't that important except as inside jokes. A few reveal contextual details of the ongoing story.
The "ongoing story" is the comedic trials of a high school club devoted to pop music. They're not just listening to music, they're trying to become a band. Of course, their guitarist is just learning the instrument, the bass player is extremely shy, they have little or no idea how to write songs, and they keep getting distracted by snacks and tea…
A few of the strips may fall flat on an American audience, but the sweet humor of the rest will get the book at least some following. Teen girls who like J-pop music and who have read at least some other Japanese humor manga will eat it up. Minor fan service humor aims this at teens and up.
--
Nick Smith: Librarian Technician, Community Services, for the Pasadena Public Library in California.