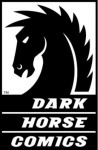 Dark Horse has revealed the title roster of its first wave of digital releases, planned for January. Some of them are:
Three BPRD miniseries and four one-shots.
Conan #1-#15
Empowered Volumes 1-3
Fray #1-#8
Goon Volume 6
Several Hellboy miniseries and one-shots
Two Serenity miniseries, a one-shot, and a tpb
Two Umbrella Academy miniseries
A Kull and a Solomon Kane miniseries
Not included are any Frank Miller, Buffy, or Star Wars titles, arguably the most valuable IP in the Dark Horse line.
Dark Horse also revealed a little more about its plan for involving brick and mortar stores in its digital launch, which it first announced in October (see "Dark Horse Goes Its Own Way on Digital"). It will create original 8-page stories that will tie into "the on-going storylines of our biggest properties and most exciting launches," which will only be available to consumers who visit brick and mortar stores.