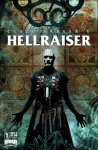 Horror maestro Clive Barker returns to writing one of his most compelling creations this March as BOOM! Studios releases Hellraiser #1, the start of an all new ongoing series. Barker will be joined in this new creation by co-writer Christopher Monfette and artist Leonardo Manco. The new series will debut with a first issue featuring covers (in a 50/50 split) by Tim Bradstreet and Nick Percival. BOOM! Studios is also publishing a 1-in-50 incentive cover for Hellraiser #1 with art by Clive Barker that is signed by Clive Barker.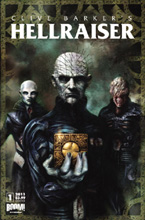 The new
Hellraiser
series will be joined in March by the release of
Hellraiser: Masterworks #1
, the first in an ongoing series of collections that will reprint classic Marvel-era Cenobite sagas created by Barker, Neil Gaiman, Mike Mignola, Alex Ross and other top flight talent.
Hellraiser Masterworks #1
features a cover by John Bolton.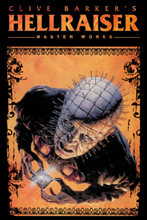 To trumpet the return of the classic
Hellraiser
material included in the
Hellraiser Masterworks
collections, the first 40-page issue of the new
Hellraiser
comic will contain a story by
Matrix
co-writer and co-director Larry Wachowski ripped from the pages of the
Masterworks
collection.