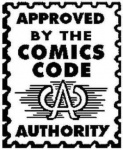 Archie Comics will cease using the Comics Code Authority logo with its February shipping books, the company announced today. Archie is the final publisher to announce that it will no longer use the Code logo to identify kid-safe entertainment, ending an era that started in 1954 in the wake of the Congressional hearings on comics content and juvenile delinquency.
DC, the other remaining publisher using the Comics Code Authority, announced yesterday that it ceased using the Code this month (see "
DC Leaves Comics Code
").
"We have a great deal of respect for what the Comics Code Authority has stood for over the years, but at the end of the day, the final judge of our content is our readership," Archie President Mike Pellerito said. "The CCA has never driven Archie's editorial direction. As we have for 70 years, we will continue to produce family-friendly, entertaining and relevant stories."