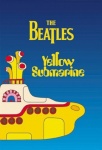 The fallout from the disastrous opening of the motion-capture animated
Mars Needs Moms,
a $150 million production that earned just $6.8 million during its opening weekend (see "
Battle: Los Angeles Tops Box Office
"), has spelled doom for director Robert Zemeckis' remake of the Beatles'
Yellow Submarine
, which was all that was left of the
Polar Express
helmer's mo-cap unit at the Mouse House. Originally slated to debut in 3D in 2012 (see "
Yellow Submarine Remake in 3D
"), the entire project is now very much in doubt.
According to
The Hollywood Reporter
, Zemeckis is shopping
Yellow Submarine
to other studios, but the abject failure of
Mars Needs Moms
certainly won't help. Zemeckis has secured the rights to the 16 Beatles songs that were included in the original, and he has lined up a cast that includes Cary Elwes, Dean Lennox Kelly, Peter Serafinowicz, and Adam Campbell, but in the current climate in Hollywood the once trendy technique of motion-capture animation is about as popular as Scott Walker at a Union Hall.