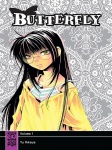 Butterfly Vol. 1 (Manga)
Publisher: Tokyopop
Release Date: March 2011
Price: $10.99
Creator: Yu Aikawa
Format: 208 pgs.; B&W; Trade Paperback
ISBN: 978-1-4278-1852-2
Age Rating: Teen/13+
ICv2 Rating: 2.5 Stars out of 5
Ginji doesn't believe in ghosts, horoscopes, and other "paranormal" things and he hates anyone who believes in them. But that doesn't explain the weird things he sees sometimes, like his dead brother. When a mysterious child, Ageha, helps him out with a debt, Ginji is unprepared to be dragged into work as a "ghost buster," especially when it opens up more questions about his past.
Aikawa's story has an interesting twist on the typical ghost hunter manga plot, even if she doesn't quite seem to know where she's going in this first volume. It's as if she cannot decide if she is creating a mystery or creating a paranormal adventure and she doesn't seem to be able to combine the two. (Hopefully those issues will be resolved in the later volumes, but since
Butterfly
is only five volumes long, that needs to start in the next volume.) What makes volume one fun, though, is Aikawa's nice use of humor. There's just enough to keep the story from getting bogged down in pronouncements about Ginji's importance and reminiscences about his dark past, but not so much humor that the mysteries get lost in the slapstick. Aikawa's art is clear, but otherwise nothing out of the ordinary. Like her plot, it does the job, but doesn't stand out much. Overall this isn't a bad choice for a new series, especially in areas where paranormal and humor titles are in demand, but it's not a must-have.
--
Snow Wildsmith: Writer and former teen librarian and ALA/YALSA committee member.