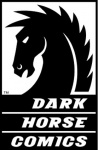 A spokesperson for Dark Horse Comics confirmed to ICv2 that the publisher laid off seven employees on Tuesday with the following statement: "Seven people were laid off from Dark Horse yesterday, three from editorial, 1 from marketing, and three more from other parts of the company. We do not anticipate any further reductions at this time. We are working to trim in other areas of spending internally, but these are the only positions being eliminated at this time."
According to
Comic Book Resources
, which broke the story, the cuts include editors Shawna Gore, who oversaw a number of horror comics projects including the relaunch of
Creepy,
and Dave Land, who has worked on a number licensed and original projects and sales assistant Max Sato. According to Heidi MacDonald at
The Beat
, the other editor let go was Tim Erwin.
With comic and graphic novel sales down sharply in the first quarter in the direct market (see "
Top Comics & GNs Down 9.65% in Q1
") and Borders' financial troubles hamstringing bookstore sales, it's tough times across the industry with "belt-tightening" moves likely in all segments from retail to publishing. ICv2 wishes the affected employees good luck in finding new positions.