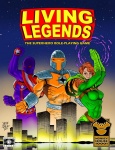 The co-creator of the classic superhero role-playing game Villains & Vigilantes, Jeff Dee, has created a new game system for the Villains & Vigilantes setting: Living Legends. The new system updates the older game's setting and offers faster-paced game mechanics. A new adventure module, In Broad Daylight, compatible with both systems will also release in August. Living Legends is being produced by Monkey House Games, in cooperation with Studio 7 Entertainment.
Living Legends uses a new point-based character generation system along with an optional method for random character creation. Over 80 powers, complete with enhancement and limitation options, allow a wide variety of superhero comic book-style characters.
Living Legends is a stand-alone core rulebook. It will be a 160-page softcover book with black and white interiors, illustrated throughout by designer Jeff Dee. Suggested retail price will be $32.99.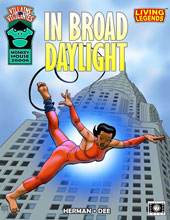 Compatible with both
Villains & Vigilantes
and
Living Legends
,
In Broad Daylight
challenges the heroes to discover exactly how and why a famous fashion model vanished in front of a crowd of thousands. Set against the backdrop of high fashion, it offers mystery and intrigue. As an added bonus, this module includes complete stats and backgrounds for "The Indestructible," the superhero team featured in the early
Villains & Vigilantes
cover art. Written by
Villains & Vigilantes
co-creator Jack Herman and illustrated by Jeff Dee. 88 pages, softcover, with black and white interiors. Suggested retail price: $19.99.
Villains & Vigilantes
was originally published in 1979 by Fantasy Games Unlimited. It was created by Jack Herman and Jeff Dee. A revised edition was later released in 1982. It has long been held as a classic in the superhero RPG genre. After being out of print for some time, it was re-released last year by Monkey House Games. It's now distributed to the trade by Cubicle 7 (see "
'Villains and Vigilantes' Returning to Stores
").