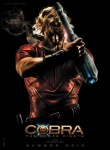 French director Alexandre Aja has received the financial backing to make his dream project, a $100 million live-action version of Buichi Terasawa's Space Pirate Cobra manga. Pre-production will begin this fall with actual filming slated for next spring and the film's theatrical debut set for the summer of 2013.
A charter member of the "Splat Pack," Aja has already developed a cult following among horror enthusiasts for his direction of
The Hills Have Eyes
and
Piranha 3-D
, which he brought in for under $25 million. Last August Aja acquired the rights to Space Pirate Cobra and announced his attention to make a live-action film in large part because the anime series based on the Terasawa manga was a childhood favorite (see "
Cobra: Space Pirate
").
According to
Variety
, the Paris-based Onyx films and the European telco giant Orange will provide the financing for the
Space Pirate Cobra
adaptation. Terasawa's old school
seinen
manga series, which has been a hit in Europe as well as the Far East, has sold over 35 million volumes in Japan alone since it debuted in 1978.
Aja released a poster for his new film that has genre movie fans salivating (see above).