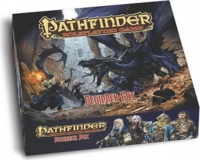 Paizo Publishing LLC has announced the planned release of the Pathfinder Roleplaying Game Beginner Box – a new starting point for players wanting to learn and play the Pathfinder RPG. With the Beginner Box, Paizo is attempting to expand the number of players for Pathfinder, which the company says already has over 100,000 players in active campaign play.
The Beginner Box will contain everything needed for 2-5 players to get started with the Pathfinder RPG. Included in the boxed set is a 64-page Hero's Handbook detailing character creation, spells, equipment, and general rules for playing the game; a 96-page Game Master's Guide packed with adventures, monsters, magical treasures, and advice on how to narrate the game and control the challenges faced by the heroes; a complete set of seven high-impact polyhedral dice, over 80 full-color pawns depicting heroes, monsters, and a fearsome black dragon; four pre-generated character sheets; four blank character sheets; and a durable, reusable, double-sided Flip-Mat play surface.
This announcement comes on the heels of the newly announced Jade Regent Adventure Path that will be released by Paizo this year, (see "
Jade Regent Adventure Path Begins
") and the recent announcement that the Pathfinder RPG - Advanced Players Guide has been nominated for an Origins award for best roleplaying supplement, (see "
37th Annual Origins Award Finalists
").
The full color Beginner Box will ship in October and will retail for around $35.