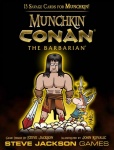 Steve Jackson Games will release Munchkin Conan the Barbarian, a booster for Munchkin, in August to tie in to the release of Conan the Barbarian on August 19th. The expansion for Munchkin will be released as a non-randomized 15-card booster at a $5.95 MSRP.
Munchkin Conan the Barbarian
is illustrated by John Kovalic.

The card backs match the original Munchkin, but the Conan expansion cards will be useable in any Munchkin game. The expansion includes such cards as the Mask of Acheron, the
Sword of Corin, Sand Warriors, and even Khalar Zym himself.
Steve Jackson Games' Steve Jackson explained the connection between Munchkin and Conan. "When you think of Conan, you think of bloody fantasy action, horrible monsters, and epic loot," he said, "and that's Munchkin."