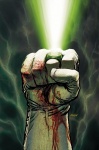 DC Comics has announced the launch of four Green Lantern titles that will be part of the new DCU. Geoff Johns, who has been responsible for the continuing saga of Hal Jordan since Green Lantern: Rebirth, starts the series over with Green Lantern #1 with artists Doug Mahnke and Christian Alarmy. Ivan Reis and Joe Prado will provide the covers.
Three other
Green Lantern
titles will debut in the fall according to DC's
The Source
blog.
Green Lantern Corps
#1 written by Peter J. Tomasi with art by Fernando Passarin and Scott Hanna will chronicle the further adventures of Guy Gardner, John Stewart, and an elite
Green Lantern
strike force. Tyler Kirkham and Bett will provide the art for
Green Lantern: The New Guardians
#1, which will be written by Tony Bedard and feature the most colorful team in the corps that combines the power of rage, avarice, fear, will, hope, compassion, and love under the leadership of Kyle Rayner. Finally Atrocitus and his Red Lantern Corps go solo as they dispense their bloody brand of
Judge Dredd
-style immediate justice in their own title
Red Lanterns
#1 written by Peter Milligan (a great choice) with art and cover by Ed Benes and Rob Hunter.
Johns wouldn't release any salient facts about his new
Green Lantern
#1 storyline, though he did indicate to the
Associated Press
that the longtime Green Lantern of Sector 2814, Hal Jordan will be part of the
Justice League
title that Johns is writing, and which initiates the events that lead to the creation of the new DCU. Johns is confident about his still secret plans for
Green Lantern
#1 however, telling the AP: "If I didn't think I had a great idea for
Green Lantern
, I wouldn't have relaunched the book. I would have moved on if I didn't think I had a great plan for it."